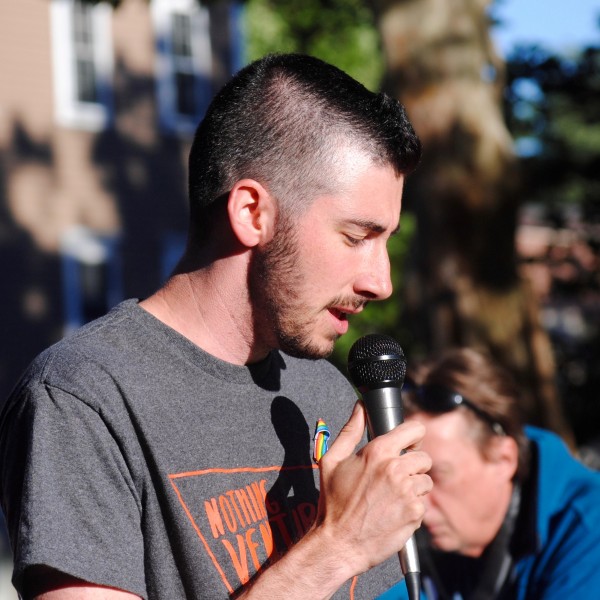 To those who do not know me, my name is Ethan Huckel. I am the board president of TGI Network of RI. I am a queer, transgender man. I am an educator. I am a husband and a father. I asked to speak today because I have words swirling around inside me, longing to be spoken. It's likely that they will not be eloquent; they may be more raw than polished, more broken than I wish them to be, but if I do not give them voice, I will regret it. If I sink back into the quiet sorrow, instead of standing up to be counted among the mourning, among the angry, I will regret it.
We are here to mourn a palpable loss. I know this because of the tears that have come in waves over the last few days. I can see the hurting in the eyes of those around me. Old wounds ripped fresh. The hugs last a few seconds longer this week.
What we mourn is likely slightly different for each of us. For some, we find ourselves floating through countless memories of dance floors, the havens where we found our family, learned to love, learned our queer history. For some, we have the faces of friends lost seared into our memories. Lives ripped away.
We come together to hold each other close. To mourn. And it is important when we do so to recognize that there are those who have suffered more, endured more, stood up against more. People of color. Trans people. The poor. The disabled.
We come together to mourn. But mourning isn't enough.
Debates are being waged about the terms we affix to this moment. "Terrorism," as if this hatred was born in some foreign land, of some foreign principles. This hate is ours to own. It is American hate. It was born in our systems, nursed by our bigotry, strengthened by our politics, and armed by our guns.
We hear the question being asked, "When will it be enough?" When will these senseless deaths push the pendulum toward Justice? How many people have to die before we fix the system? I understand these questions, I feel them. They are founded in sadness and desperation, but they are founded on a false premise. The system is not broken. It is a system of oppression and it is working just fine. In this system, politicians use queer people as the bait to rally the hate of voters. In this system, the words "black lives matter" are seen as a threat. In this system, some schools provide education, while others funnel black bodies into prisons. In this system, trans and gender nonconforming bodies are treated like an affront to other people's safety. In this system, women are left bruised and bleeding behind dumpsters, while the safety of white boys is protected. Oppression intersects in a vast web. A web that has been skillfully woven to keep power in the hands of the few.
This is not a system that needs fixing. This is a system that needs dismantling.
Yes, we come here together today to mourn. To some of us, mourning looks like weeping. To some, mourning looks like rage.
We have fought for change before. We have staged sit ins, held rallies, testified in our state houses and before congress. We have taken our fight to the streets. The Black Cat Tavern. Compton's Cafeteria. Stonewall.
The Bay Bridge Shut Down.
We have fought for change before, and we have won.
Let us not go back into the quiet of our homes, waiting for the next tragedy.
Let us not sit back resigned to violence, or to racial profiling, or to police brutality, or to the gun lobby, or to an onslaught of political attacks.
Let us use the candles we light in mourning to fuel the fire of our souls.
Let us fight.
In the wake of Orlando, the system requires dismantling

,