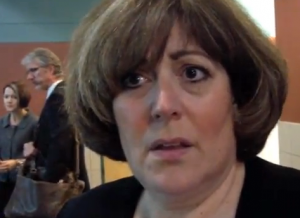 Eva-Marie Mancuso's recent (9/18/13) op-ed piece in the Providence Journal "Testing helps R.I. students achieve" offers a disingenuous rational for not discussing the current NECAP testing requirement. Her piece attempts to build a case for the Board's exit-test policy by stringing together a series of misleading and vacuous statements that do not hold up to critical review. Here are some of the most blatant:
"We want to prepare all of our students for success, and we want to make Rhode Island's public schools and higher-education institutions among the best in the country."
No one engaged in the current debate about the exit-testing requirement disagrees with this goal. The disagreement is around the policies that determine how Rhode Island will use its scare resources and regulatory authority to achieve this goal. And, it should be noted that Mancuso does not have a Board united behind the current policies. On September 9 that Board voted 6-5 not to accept a petition that would have opened up the testing policy to discussion and public examination.
"The vote [by the Board not to discuss the graduation requirements] was not about the merits of any of our battery of state assessments; it was about starting the debate again about whether or not to have state assessments."
In fact, the debate has all along been, in part, about the merits of the eleventh grade math test. This test fails a far higher proportion of students than the 11 of reading and math assessments, whether it be the National Assessment of Educational Progress (NAEP) or the Massachusetts Comprehensive Assessment System (MCAS) shows such a huge disparity between the performance standards for reading and math. So the debate has included fundamental questions about the performance standards the Board has endorsed for graduation.
"the New England Common Assessment Program (NECAP), is not the be-all, end-all — but it is one valid measure".
I don't know what evidence she uses to assert the NECAP is a valid measure because the NECAP technical report does not provide any credible validity study. Consequently, we do not know whether the NECAP predicts college or career readiness any better than family income, mother's education, or number of books in the household. And, if it doesn't, which is very likely, it is a huge waste of very scarce resources.
"[the NECAP] shows us that too many students…have not attained the knowledge and skills they will need upon graduation."
Yet, RIDE already knows this—they know, for example that many students taking the NECAP math test have not had a geometry course and, since geometry is required on the NECAP, how could these students pass the NECAP? Making sure all schools provide the curriculum necessary to pass the NECAP is a prerequisite to implementing an exit-test requirement and one of the things Massachusetts did in their ten-year preparation phase. By rushing to implement "high standards", the Board is already harming students unfairly.
"We don't have to look far for support for a state assessment. Massachusetts implemented an even more stringent standard more than a decade ago, and, though assessments alone do not account for the improvements in Massachusetts, today Massachusetts ranks first among states in student achievement."
I agree that assessments alone do not account for the improvements we see in Massachusetts. It is far more likely that they reflect a decade-long preparation, adequately financed by a state funding formula that built capacity in the poorest districts. Adequate funding means a district can conduct intense professional development, build its infrastructure, and provide supportive programming for its vulnerable students. It also means the district can maintain courses in art, music, and vocational training. Lacking a funded formula, these are things Rhode Island's poorest districts cannot provide.
"every high school in Rhode Island offered students additional instruction and support during the school year and over the summer, in a commitment to improve mathematics achievement".
Not true. Most high schools only passed along the state sponsored 'math module' which was an online test prep course with a 'virtual' teacher. Most students did not receive any additional instruction from the schools last year or over the summer – unless they were enrolled in those test prep courses. Already, one of the concerns of those of us who question the wisdom of this policy has become reality–districts have been forced to dedicate extremely scarce resources to providing test-prep courses that have almost no lasting impact on students' learning.
"I have been moved and troubled by the concerns many students, educators and family members have raised regarding our diploma system."
Perhaps, but Mancuso has remained steadfastly unresponsive to the concerns raised by parents and advocates for students with Individual Education Plans (IEPs). The NECAP failure rate of these students in math is astoundingly high—over 80% failed. Furthermore, ten years of exit testing in Massachusetts has resulted in more students with IEPs failing to get diplomas, not fewer. This long-term failure of a testing policy to close achievement gaps in Massachusetts is reflected in their being ranked as having among the worst NAEP achievement gaps. Since Rhode Island is having no success in reducing achievement gaps, the exit-exam policy seems like a bad choice.
Finally, Mancuso concludes with a plea for support, "Let's take all of the energy that has gone into opposing statewide testing and focus it where it belongs — on improving opportunities and outcomes for our students."
Yet the policies Mancuso asks us to support have not been defended in transparent public discussion that addresses the relevant evidence. It will do our students no good for us to blindly support a policy based primarily in ideology.