The Everett Company's "Freedom Project"– which premiered Thursday, March 12, at Brown's Granoff Center – is a sobering, ultimately soaring piece of theater, incorporating movement, music, video, and real stories to tell the sad tale of mass incarceration in the U.S. It's a riveting 90 minutes.
Everett has been stretching the boundaries of traditional performance since the 1980s with its work combining science and dance. In "Freedom Project," the six performers move about the stage with athletic grace – jumping, hopping, twisting, lunging, embracing – using a couple of piles of concrete blocks in clever, transformative ways. Who knew concrete could provide such imaginative launching pads?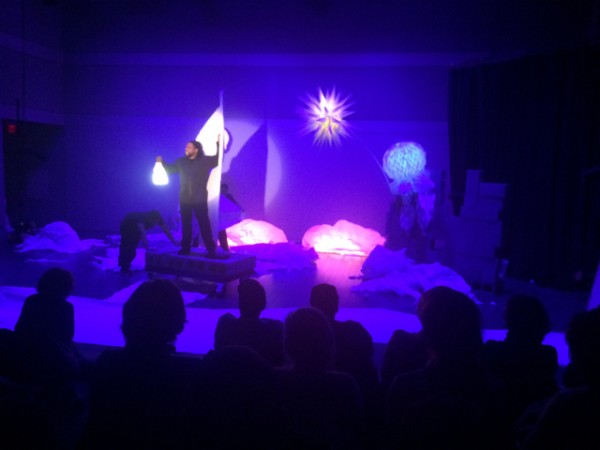 Mixed in between the movement segments are video pieces where people talk about their experiences on "screens" that alternate between pieces of fabric held up by a performers, cut out cardboard shapes that just happen to match the head shape of the speaker, and those same concrete blocks.
Performer Ari Brisbane plays the role of standup comic, strutting on stage through every 10 minutes or so with some "jokes." Only the "jokes" are a series of facts about the prison system in America. You want to laugh – the "jokes" are accompanied by a recorded laugh track – but the facts stop you cold.
Like: "Women are the fastest growing population in prison"
And: "13 million people move in and out of the prison system in a year."
And: "For every 2 white Americans in jail, 11 black Americans are in jail."
While many aspects of the performance dazzle, it's the stories that strike home. About the anonymity of prison life, one speaker says, "I come in here and I'm not a person anymore." Another person, who comes from a long line of imprisoned family members, "It's generational recidivism."
Living up to its name, Freedom Project ends with hope. It's a simple as a window in a prison cell – "the window does not open yet somehow allows one to breath" – and as fantastical as an homage to "Where the Wild Things Are," complete with a small sailboat. This is theater worth seeing, in every sense of the word.
Freedom Project is directed and designed by Aaron Jungels. The cast includes Grace Bevilacqua, Ari Brisbon, Christopher Johnson, Aaron Jungels, James Monteiro, and Sokeo Ros.
It will be performed at the Everett Stage, 9 Duncan Ave., Providence, March 20-22, March 27-29, April 3-4, and April 10-12 – Fridays and Saturdays at 8 p.m. and Sundays at 2 p.m. (Sundays March 22 and March 29 are pay what you can.) You can find out more at EverettRI.org or call (401) 831-9479.