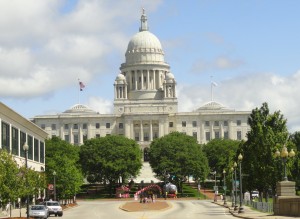 Not only do Rhode Island lawmakers often embed policy proposals into the state budget, they also sometimes embed budget proposals into other areas of state law. The Ocean State is infamous for having the only law that in the nation that guarantees Wall Street gets paid before retirees, but we also have a law that places payments to retirees' above other communal concerns.
Here's what the Providence Journal reported Wednesday about a little-discussed law:
Union officials lobbied from the sidelines for the state to make good on a promise made after the state's 2011 dramatic pension overhaul froze cost-of-living increases to Rhode Island's retired public workers until the fund is in better financial shape.

The law required that any state money that comes in — over and above the state's official revenue estimate — go into the state pension fund. This year that would have totaled $12.9 million. But Chafee sought to eliminate this provision, and carry the money forward into next year's budget.

To the dismay of the unions, the lawmakers agreed, prompting this response from J. Michael Downey, president of Council 94, American Federation of State County and Municipal Employees: "Shortchanging employees' pensions, while taking care of Wall Street bondholders and restoring tax credits, is immoral."
I would agree with Downey's moral compass on this one. It is immoral to shortchange middle class retirees and not companies. Similarly, I feel it is immoral to shortchange the homeless and struggling cities and towns while taking care of middle class retirees.
Whether either scenario is financially advantageous to the citizenry is another matter altogether. I would argue deciding whom to take care of and whom to shortchange based on such rationale is what makes it immoral. Not that we don't have to make immoral decisions sometimes, we should just recognize it isn't necessarily benevolent. In other words, we have no moral obligation to be prosperous, but we do have a moral obligation to do the greatest good for the greatest amount of people. Intentionally obfuscating these two often competing values is very immoral, by the way.
To my way of thinking, Rhode Island's economy would be better served if we ended homelessness than if we fully funded our pension system. I also think we have a higher moral obligation to end homelessness than to fully fund pensions. Similarly, it may be true that our economy would be better served if we fully funded our pension system than if we fully funded our debt obligations. But I'm certain we have a higher moral obligation to fully fund commitments to people than to credit markets.
Now some may agree with my economic and moral theories, and they may be right to do so. And what makes the most moral and/or economic sense at one time might not be the best decision at another time. That's why it's bad policy for state lawmakers to codify outside of the annual budget process a class system of financial obligations.