Michael D. Kennedy is a Professor of Sociology and International and Public Affairs at Brown University: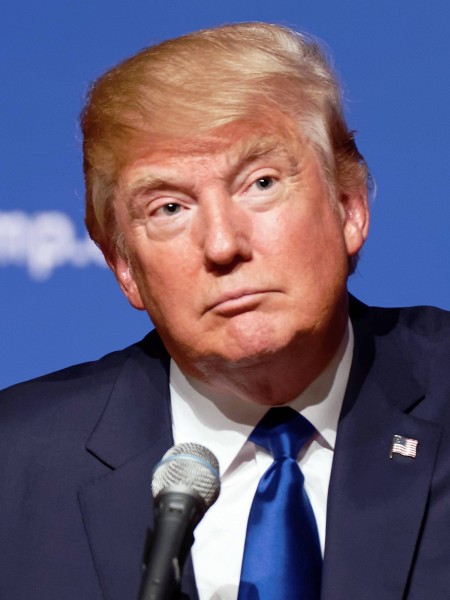 The candidacy of Donald J. Trump for President of the United States finds daily a new road to Hell, and threatens to drag the nation, and the world, down with it.
I wrote what follows before I watched the debate on October 9. Nothing in that disgusting spectacle changes my sense. I will, however, offer some concluding remarks about how the debate shapes my interpretation of the cultural political landscape in which this spectacle took place.
Trump is in a tailspin.
An Open Letter from Some Angry Women spelled out the list of affronts from Trump's lips that have defined his campaign. His disgusting 2005 quotation led a number of Republicans to withdraw their endorsement, at last.  Republicans are right to worry about the effects of a Presidential Election day debacle for their down ballot contests, and now they scramble to save their own, personal, electoral futures. But more is going down in flames than a few Senate chances.
The defining GOP alliance of evangelicals and free market advocates was already on shaky ground given that Trump is neither devout nor a believer in regulation by market.  He believes in strong men being able to rewrite the rules of bankruptcy in order to make a buck and stiff the schmuck. Of course we all know, too, that the famous have the right to assault women according to the Trump holy scriptures.
While limiting reproductive health and rights for women has been a hallmark of many evangelical dispositions, celebrating the assault of their mothers, wives, and daughters has finally trumped the pragmatism motivated by their Supreme Court anxieties. If coherence of principles remains a conservative Christian priority, Evangelist Russell Moore's op-ed last month will get many more readers as Trump's lewd barbarism becomes ever more difficult to overlook.
Of course Trump's destruction of the defining GOP alliance was preceded by the wreckage of its fantasized one.
Trump ruined the hopes of a new broader GOP alliance with his celebration of a wall that Mexico would pay for, but that was only the first of many "strong man" celebrations he would offer. His association with former NYC mayor Rudy Giuliani, one of his surviving spokespersons, has moved Trump to continue celebrating the disastrous policies of "stop and frisk".  A smarter proto-fascist would have tried to build his authoritarianism on a broader base, but Trump's ideology is just too deeply steeped in racism to be electorally triumphant. As one exceptionally well connected progressive friend predicted, Hillary Rodham Clinton should beat Trump in a landslide. The skeptic at that dinner table predicted HRC victory too, but worried about its certainty.
We ought worry, for our nation knows the risk of the October Surprise.
Trump's tailspin risks us all
Those who leaked Clinton's speeches to Wall Street only revealed what Bernie Sanders and everyone who embraced his commitment to ending Wall Street influence know: those speeches must have been "damned good" for Madame Secretary to have been paid so well for them. This is of course not really news, for we all know that you don't earn your keep by offending your hosts. However, it does give those opposed to a Clinton victory the chance to redirect her possible supporters to the Green Party or to the Libertarians. Trump's campaign is very happy about this release, of course, for those who vote for Stein, or stay home, implicitly keep Trump's hopes alive. Putin is among his greatest supporters.
I am no cold warrior, but neither am I naïve about Putin's Russia. I have spent my academic career analyzing Soviet-type societies and then the transformations of post-communist countries.  While we ought be focused on how Putin's regime has redrawn European state boundaries by invading Ukraine (contrary to Trump's understanding, reflecting something more than his careless language ) and by committing war crimes in Syria, we need be much more cautious about how Putin's skillful manipulation of democratic public opinion within his adversaries' nations leads to state breakdown.
Putin, and Trump, have celebrated Brexit – not because they care for globalization's dispossessed, but because railing against global elites creates room for their brands of militarism and fascism to gain ground.  Putin does not stop there, of course – his aim is, ultimately, to weaken both the European Union and NATO, the latter of which Trump has found "obsolete" We ought, therefore, be wary of how Putin will try to maneuver Trump into the White House with his regime's considerable capacities in information warfare.
In the end, however, I agree with my optimistic friend. Should Clinton manage to mobilize those who justifiably fear a Trump regime's ruin of US international standing and its promised assault on our existing standards of rights for women, people of color, and others (including the dispossessed white folks who celebrate his promise of a return to greatness), we should see a rout of Trump and those who continue to support him. But that won't be the end of Trump.
I don't mean a new season of The Apprentice.  Trump has given license to those who, in the name of opposing political correctness, feel free to demean and harm, in speech and in practice, those they consider inferior. He has encouraged his supporters to think that, should he lose, he was robbed of the victory by illegal means. As a former Pennsylvanian myself, I can readily read his racist surmise when he tells his supporters to observe the polls in certain places.
When Trump loses, do you think his supporters will retreat to their private resentments for the erosion of white privilege in America?
The Morning After
I wrote the preceding on the morning before the debate, and now the morning after.
I found Michelle Goldberg's account of the debate most HRC sympathetic – while the Secretary could not quite hold onto Michelle Obama's high road all the time, she did pull us back toward rational democratic deliberation despite the menacing hulk looming behind her, despite Trump's threat to imprison her should he be elected.
Those who declare Trump's victory in debate can do so only because he has so effectively diminished not only our expectations of what a GOP candidate ought bring.  He has helped mobilize the flames of ressentiment so effectively that it overwhelms any politics of respect, whether toward his opponent or toward his Muslim American interlocutor, or towards "the African Americans and the Hispanics".  He advocates a new sense of justice with the rule of law and constitutional integrity as potential casualties. Trump consolidated his base in the debate and in the preceding press conference with such bravado and bullying that he won't be eclipsed. Those who seek to save the Republican Party will have to go to battle, and not wait for his never-to-come resignation.
Barring some extraordinary October surprise, Trump has not only failed in his campaign, but has destroyed the Republican Party in the process. But he remains dangerous. In fact, without the moderating force of the GOP mainstream, he becomes even more threatening. Trump has fertilized with his lies, grandstanding, and celebrity surmises, with his BS, a measure of white supremacy, bald patriarchy and proto-fascism on American soil I would have never anticipated.  Those who embrace that vision will not be quieted with an electoral victory by Hillary Rodham Clinton. I fear, by contrast, they will be incensed.
This last month of campaigning is not just about who wins the White House. It's about whether the culture of this contest paves the road to Hell or gives us a chance to reroute toward the Promised Land. I pray for the latter, but the sociologist in me fears the former.
---
Michael D. Kennedy, Professor of Sociology and International and Public Affairs, Brown University
homepages:
http://www.brown.edu/academics/sociology/michael-kennedy
http://watson.brown.edu/people/faculty/kennedy
https://brown.academia.edu/MichaelKennedy
@Prof_Kennedy on twitter
Now Available! Globalizing Knowledge: Intellectuals, Universities and Publics in Transformation.  Stanford University Press  http://www.sup.org/book.cgi?id=24607
Address: Box 1916 Maxcy Hall Brown University 108 George Street Providence, RI 02912 Fax: (401) 863-3213
The failure, and abiding danger, of Trump

,