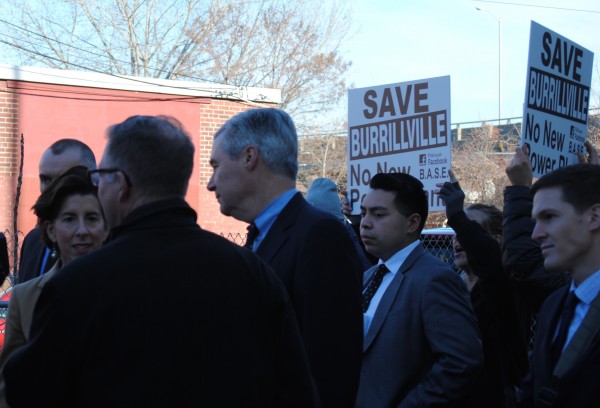 Governor Gina Raimondo and Senator Sheldon Whitehouse found themselves confronted by activists from Burrillville Against Spectra Expansion (BASE) and Fighting Against Natural Gas (FANG) at a press conference to announce a new federal program to fund "major infrastructure projects like the 6-10 Connector in Providence."
As US Representative David Cicilline finished up his short statement about the transportation funding, four activists, including Nick Katkevich of FANG and Kathy Martley of BASE entered the press conference area, under the 6-10 Connector behind Wes' Rib House in Olneyville.
The four protesters held large signs and stayed quiet throughout Gina Raimondo's short presentation. After the press conference ended, Kathy Martley tried to get the attention of the governor with a question about the new methane gas energy plant planned for Burrillville, but the Governor and Senator Whitehouse seemed intent on only answering the questions of the media present, and avoided engaging with the protesters.
In the video, Katkevich said to Whitehouse, "You're not a climate champion, you're supporting a fossil fuel power plant," before asking, "You go to Nebraska, to fight the Keystone, but you can't go to Burrillville?"
Whitehouse, "didn't say a word" to the protesters, according to Martley by phone after the event was over. She was told by a Whitehouse aid that she and BASE had "given us enough information" on the pipeline expansion and new power plant. Martley complained to me that when she had previously approached Whitehouse, he had promised to meet with her, but that meeting never materialized. Today, Whitehouse simply ignored her and drove away.
Governor Raimondo, said Martley, "didn't want to talk to us… she said 'we'll meet with you' and I said, 'we've tried to call your office and you're still not making a date with us. Are you going to make a date with us when the power plant is already built?'"
This is the second time that Martley and BASE have attended a Raimondo press conference to ask about the methane infrastructure expansion projects in Burrillville. Back in September she crashed the governor's press conference for the opening of the Linear Park. Today's action comes on the heels of a large weekend rally and march against Spectra in Burrillville in which eight people were arrested.