A group of people associated with The FANG Collective carried out an action at the international headquarters of State Street Corporation in downtown Boston on Friday. Two members of the group locked-down to two doors at the main entrance of the building using bicycle locks while others swarmed inside urging the companies to end its investments in the fracked-gas industry.
Galen Shireman-Grabowski and Jay Gustaferro of Gloucester, MA were extracted from their lock down by security and police and placed under arrest.
State Street Corporation is Boston's oldest financial institution and has $28 trillion in assets.  State Street is one of the largest institutional shareholders of a multitude of companies involved in fracking, fracked-gas pipelines and liquefied natural gas (LNG) exports. Among their top holdings is Spectra Energy, whose pipeline expansions projects have come under intense scrutiny across the Northeast.
"State Street Corporation with it's holding in companies like Spectra Energy, Anadarko and Dominion, is fueling the climate crisis and impacting communities that are being inundated with fracked-gas infrastructure across the country," Said Shireman-Grabowski who traveled from Vermont for the action.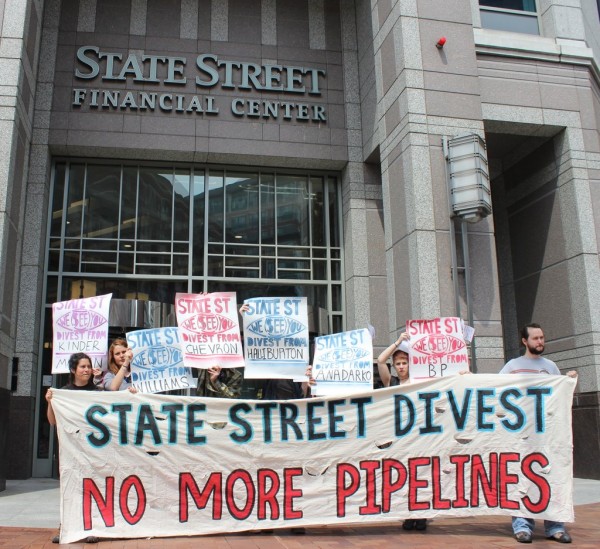 State Street Corporation has faced protests over the past year from activists resisting Spectra's "AIM" pipeline expansions project, Dominion's Cove LNG facility in Maryland and Kinder Morgan's "NED" project. On Wednesday Kinder Morgan declared that they were indefinitely delaying the NED pipeline project that would have cut across Massachusetts.
Activists held signs that listed a number of the fracked-gas companies that State Street has holdings in that read "State Street We See You." Another banner deployed on the site read "State Street Divest: No More Pipelines."
"State Street Corporation is locking our world into a climate crisis and they can no longer hide from public scrutiny. We are watching them, and we will hold them accountable," said Gustaferro.
[from a press release]
FANG targets State Street Corp. in Boston over fossil fuel support

,