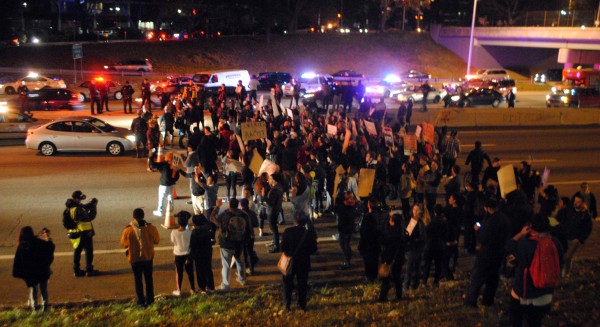 It touched a nerve when activists took to Interstate 95 Tuesday night and shut it down for at least 15 minutes.
Blocking traffic has nothing to do with racial injustice, some said. Others worried that an ambulance might be delayed in route to the hospital. It's plainly dangerous to both protesters and motorists and everyone feels a little uneasy that a few dozen otherwise peaceful people can bring the busiest highway in the nation to a screeching halt.
The tactic drew a sharp rebuke from some – many of whom are not otherwise receptive to addressing racially-charged issues – but also managed to propel the protest onto the front page of the Providence Journal and it was highlighted by nearly every local news outlet. As a protest tool, it's hard to argue it didn't accomplish it's objective – which was to call attention to the Ferguson ruling, racial inequality and police brutality.
And it happened all over the country. From San Diego to Providence, police arrested hundreds of people who took to highways protesting the Ferguson ruling.
The 580 in Oakland and the 101 in Los Angeles were shut down on both Monday and Tuesday nights. Lake Shore Drive in Chicago was blocked by protesters, as was the Stemmons Freeway in Dallas. Activists blocked Interstate 75 in Atlanta and in Detroit. Protests took over highways in Nashville, Durham, Baltimore and Cleveland. The FDR Highway and the Brooklyn Bridge both succumbed to protests. In no less than 20 American cities, activists took to the streets this week to stifle traffic.
It's not a new tactic in the civil unrest that's broken out since Michael Brown's death. Ferguson protesters tried it in St. Louis in September and in Atlanta in October. On Saturday, it was used in Ferguson, where 15 people were arrested. The New York Times reports:
"Although the authorities arrested more than a dozen people, the demonstration was far from a repeat of the rioting early in the week, which was defined by gunfire, looting and arson.

Instead, protesters opted for a common and less provocative tactic: blocking traffic along South Florissant Road near Ferguson's police station, which is now protected by the St. Louis County police and members of the Missouri National Guard."
.
Here's a roundup of protests that closed roads from around the country….
Providence, RI:
RT @OccupyRMN: RHODE ISLAND is in the house!! #FergusonDecision #Ferguson #BlackLivesMatter #NotOneDime #Fiddlesticks pic.twitter.com/WC8guIjmFi

— Bob Plain (@bobplain) November 26, 2014
---
Boston, Mass.:
View from my bedroom window – Protests on Mass Ave in Boston. Photo cred @deathcorez #massave #backbay #ferguson pic.twitter.com/7sq2UtDKE5

— Steve Knecht (@steve_knecht) November 26, 2014
---
New York, NY:
Earlier (better photo) spilling into the FDR. Never seen anything like this in US. pic.twitter.com/QvzpU85dQu

— Melissa Gira Grant (@melissagira) November 26, 2014
---
Oakland, Calif. –
Protesters have blocked I-580 traffic in both directions again by MacArthur and Van Buren. http://t.co/7rcs9fwtrH pic.twitter.com/9moay04bJD

— KQED News (@KQEDnews) November 25, 2014
Both sides of 980 at a standstill. Large police presence at 19th/Castro on ramp. #FergusonOakland pic.twitter.com/4KPyMGfsBx

— Kale Williams (@sfkale) November 26, 2014
---
Los Angeles, Calif.
---
San Diego, Calif. –
---
Seattle, Wash –
---
Portland, Oregon –
---
Cleveland, Ohio –
---
Detroit, Mich. –
---
Chicago, Ill. –
Photo set from @chicagotribune of #Chi2Ferguson, including Lake Shore Dr highway takeover http://t.co/LvZhotzoqx pic.twitter.com/g6eUzXEOqq

— Danielle (@daneyvilla) November 26, 2014
---
Minneapolis, Minn. –
---
Atlanta, Georgia –
---
Nashville Tenn. –
---
Durham, NC –
---
Washington, DC –
#DC #Ferguson Solidarity Now shutting down the street. LIVE http://t.co/h64fLXTn0r @MartinDiCaro pic.twitter.com/zO0sC3L7GV

— Revolution News (@NewsRevo) November 29, 2014
---
Baltimore, MD –
---
Dallas, Texas –
---
Albuquerque, NM –
Local Ferguson protest takes over Central Avenue – KRQE
---
Ithaca, NY –
Ferguson protesters' tactic of choice: shut down highways

,