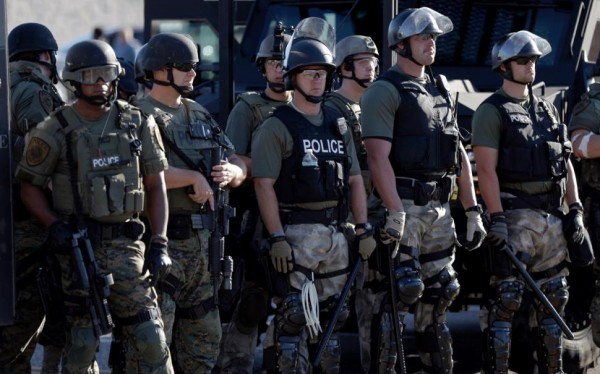 Regardless of whether or not Mike Brown assaulted the officer, justice was not served  A lot of people want to strictly blame the racial divide, some blame the relationship between the police and citizens, others still blame the clear flaws in the American criminal justice system.
Not one of these factors caused the nationwide protests this week, all of them did.
What is the case in Ferguson, Missouri is not specific to that town, or even the southern United States. At least 170 cities saw protests as thousands of citizens from Los Angeles to New York took to the streets and highways. Citizens feel disenfranchised when it comes to those whom they pay to serve and protect us.
During the first large protest in Ferguson in response to the death of Michael Brown police responded with riot gear, armored patrol vehicle assault weapons and tear gas. This may have quieted the unruly bunch who became violent but it is easy to see how such a show of force greatly exacerbated the perceived disconnect between cops and citizens. How exactly did Ferguson (and many other small police departments) acquire such serious firepower? Through the Pentagon's 1033 program local law enforcement agencies are given outdated military equipment to local law enforcement agencies. The main goal of a protester is to be listened to and understood. Nothing says, "I hear your pain" like riot shields and combat fatigues.
Now race is much much trickier issue. Al Sharpton and the NAACP are dead wrong, we do not need a new civil right movement, but at the same time Fox news pundits need to stop insisting that racism is dead and that the idea that race may have had something to do with this case is divisive.
Racism  is alive but now, more often than not, it bleeds through subtly. A call for equal protection for for blacks and whites under the law has already been answered, just not enforced as well as it should be. What do they suggest, affirmative action when it come to arrest rates? You may only arrest so many African Americans? As for proof that racism is still a factor, one must only look at the arrest rates: Ferguson has 2.8 times more blacks arrested than whites and some parts of Rhode Island have disparities as high as 9.14 times more black arrests (RI ACLU).
What could explain the fact that blacks are stopped and arrested multiple times more frequently when the rates of crime are relatively close besides an issue of race? The way out of this is a long term change of image which will take decades, sadly fires and lootings and Ferguson do the exact opposite of what level headed blacks desire.
The crux of the matter, however, is the way crime and criminals are handled by the American criminal justice system. We have for profit prisons which donate to the government in order to garner support for laws that would favorably affect their business such as drug laws and mandatory minimum sentencing. It costs tax money to house and feed individuals in jail, why do we find excuses to throw people in them for a consensual use of a substance not worse but merely different than alcohol? People are making money for locking others in cages.
Let's assume that Officer Wilson's account is correct, however unlikely it may be. He asks the suspect to get out of the street and is immediately assaulted, Brown sustains a bullet wound then flees and is shot at several more times before deciding to turn around and charge at the police officer aiming a gun at him. The happenings after this are no less than a travesty of justice. After the incident Officer Wilson's statement is not recorded, The crime scene is not photographed, and there was not a proper chain of evidence documented on the gun. All of these things are protocol after a police shooting and are cause for suspicion. They were bypassed for frivolous reasons such as "the cameraman had dead batteries."
During the hoax of a grand jury trial the the prosecutor acted more like a defense attorney doing such things as allowing the defendant to testify, after the autopsy no less. This may seem normal but U.S. Supreme Court Justice Scalia wrote "neither in this country nor in England has the suspect under the investigation by the grand jury ever been thought to have a right to testify or to have exculpatory evidence presented. The prosecutor gave the grand jury copies of a 1979 state law that allowed police to use any force to stop a suspect just because they are fleeing. This law was deemed unconstitutional by the Supreme Court in 1985. Officer Wilson said he feared for his life after being punched twice, I have come out of High School football games looking worse than the red mark he got on the right side of his face. The right side of his face…how did that get injured when he claims to be punched while in the driver's seat (exposing only his left side)?
Officer Wilson may very well be innocent of all wrongdoing, no one knows the whole truth as there were 60 conflicting eyewitness accounts (also never presented by a prosecutor who actually wants and indictment), but out of 160,000 federal grand jury cases, only 11 did not get indictments. When asked if he would change anything given the chance to do the situation over again, he replied he would do everything over again.
What happened in Ferguson: Race, militarization and flawed justice

,