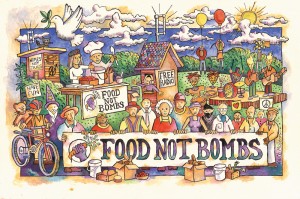 Food Not Bombs is a simple praxis that contains within it a radical emancipatory project that can fundamentally shift the tide of not just homeless issues but the entire American neoliberal imperial project.
There's a new Food Not Bombs group in Providence, and I sat down with two of the organizers to talk about the program and the philosophy behind it.
"We are re-appropriating food that would otherwise be wasted and we are using that to feed people," said Miranda, one of the organizers.
The group will be holding their first action, giving away free food, on Saturday, October 24, 2015 beginning at 2 pm in Burnside Park.
"The revolution does not need a permit," said Ben Boyd, another organizer, about the decision to not register the free meal with the city or state. "The main mindset I've been taking for this operation is let's just stay fluid and try to adapt."
Food Not Bombs has groups all over the country now. But it started in Cambridge, Mass. in 1980, "as a sort of street theater-like demonstration, like they would gather outside of corporate offices," Boyd said. "A couple people made soup and they had their banner, somewhere down the line got to thinking about how the military takes up so much of the budget and it just spread out from there."
Added Miranda, "While our primary concern is to feed hungry people it's definitely also to spread awareness for the need for social justice and to bring knowledge to people who might not know about the kinds of things we need to take action on."
You can listen to my full interview with them here:
Sitting in their kitchen as they prepared food to give the most vulnerable, one cannot help feeling a sense of admiration and even shame for not being as brave as they are. One individual's description of the empathy and solidarity she establishes with the homeless is the stuff of genuine holy work, far more worthy of praise then when a sanctimonious religious figurehead says much and does little or when activists quote their rote memorized writings of European socialists from last century.
With the coming catastrophe caused by climate change that will decentralize and upset our agricultural industrial complex, these activists might in fact be prophetic in their actions.
Founded in 1980 by Cambridge, Massachusetts-based activists Keith McHenry, Jo Swanson, Mira Brown, Susan Eaton, Brian Feigenbaum, C.T. Lawrence Butler, Jessie Constable and Amy Rothstien, the logic is deceptively easy to grasp. Simply put, the activists want to shift the economic budget so to focus on homelessness and hunger. But in doing so, the logic dictates a massive shift away from what Dr. Noam Chomsky has described as the main engine of Keynesian economic growth in American society, the Pentagon budget. As a result, we are talking about a massive change in the trajectory of our military, social, and political culture in America. The idea that something so radical can begin with a vegan serving of food to help the homeless is so stunning on the outset that one almost cannot resist the temptation to equate it with the utopian visions of John Lennon's Imagine. But on the same token, by eliminating animal products from the menu, they reduce the need for refrigeration, sanitation, and other high-energy consuming utilities that are not required by vegan/vegetarian products. And by rebalancing the budget in such a fashion, imperialism recedes, as does racism, sexism, homo/trans-phobia, and persecution of those who are discriminated against due to class.
Those interested in getting involved with the group are encouraged to contact them via the following venues:
EDITORIAL NOTE, 10/23: A previous version of this article incorrectly named one member as Amanda instead of Miranda.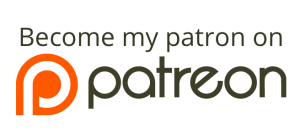 Food Not Bombs group to feed Providence on Saturday

,