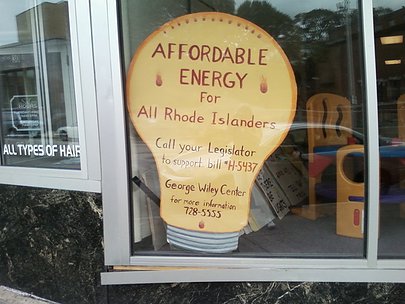 Lynn Collette of Wakefield is a single mother of three and the seemingly glorious change of seasons and the impending cold weather it will bring could have serious consequences for her family.
"I had my electricity turned off and my heat is unfortunately electric," she wrote in an email to the Public Utilities Commission.
She's managed to set aside $2,000 and to collect another $600 from local churches and charities to pay own the debt, she said in her email, but it still isn't enough to get National Grid to restore her electricity. The utility company often requires customers pay 25 to 50 percent of an outstanding balance bill before it will restore service.
The landmark Henry Shelton Act, passed in 2006, requires utility companies restore service to low income customers if they can pay 10 percent of their bill and pay off the outstanding debt in 36 months. But there are many Rhode Islanders behind on their bills that don't qualify for this program. And a new administrative rule passed last year requires people to pay down their debt before they can again take advantage of the 10 percent rule.
Camilo Viveiros, an organizer with the George Wiley Center, said there are more than 15,000 people who will have a utility shut off this year. He and others will implore the Public Utilities Commission today at its public meeting (10 am at its headquarters at 89 Jefferson Blvd., in Warwick) to repeal last year's rule change and allow the 10 percent rule to apply to more low-income people.
"We are hopeful that the Public Utilities Commission will continue their tradition of heeding our request to reduce peoples needed down payments so they can get their utilities turned back on before November 1st, but we also want them to make it possible for more rather than less people to be able to restore their utilities," he said.
In a press release yesterday, the George Wiley Center said:
"People shouldn't be penalized for living through prolonged poverty and being in an ongoing economic predicament, for struggling with unemployment, living on fixed incomes due to illness, disabilities or retirement. Although our main demand is to allow people with low incomes to pay 10% down for utility restoration, the GWC opposes barriers that disqualify those who are struggling in this difficult economy."
The state Division of Public Utilities is recommending last year's rule stay in place, and it favors a tiered process:
(a) for a customer owing less than $1000, 20% of the balance owed must be paid and the remainder of that balance must be paid within 18 months;

(b) for a customer owing at least $1000 but less than $2500, 15% of the balance owed must be paid and the remainder of that balance must be paid within 24 months;

(c) for a customer owing $2500 or more, 10% of the balance owed must be paid and the remainder of that balance must be paid within 36 months unless the Company chooses to extend such time period;

(d) the customer requesting a payment plan under this provision, Part V, Section 4(G) either did not participate in one of the plans listed in Part V, Section 4(G)(a)-(c) in a prior year or did participate and currently has a balance due on his or her account that is the same or less than that customer had upon enrollment in a prior year plan listed in Part V, Section (4)(G)(a)-(c) unless the customer makes an additional down payment sufficient to bring the customer's balance to the level equal to or less than the starting balance when the customer previously participated.
And here's the letter legislative leaders sent the PUC on the issue.
The issue is one the PUC, activists and many low income Rhode Islanders deal with every autumn.