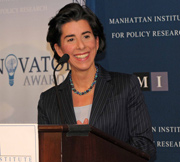 It turns out I wasn't the only one told by Gina Raimondo's staff lawyer Mark Dingle that public record requests from the general treasurer's office literally come at a cost.
For me, when I asked for records of Raimondo and her staff's communications with members of Engage RI, the price tag was $435. For AFSCME, a labor union that wanted to know how much fees money managers are making on their pensions, the cost was $1,485, according to a GoLocalProv story.
Steven Kreisberg, the director of collective bargaining for the American Federation of State, County, and Municipal Employees told GoLocal in no uncertain terms that he thought the treasurer's office was requiring prepayment as a way to stifle public scrutiny.
"That language was clearly written for a desired outcome, and that was that was to deter us from following up on the request," said Kreisberg.  "These are public records — and they want to gouge us to get them, if at all?"
The treasurer's office told me it would take about 30 hours to investigate my request. AFSCME's request would take 100 hours. The wheels of democracy turn slowly when it comes to compiling information for the public.
Recall what Raimondo told the ProJo in December about her frequent travel out of state (ProJo link here): "It is extremely important, actually, for the treasurer … to spend time, in person with investors, so they can ask questions and I believe, especially in these times of uncertainty and fiscal distress, it is more important than ever that [a] treasurer bend over backwards to be transparent and open with our investors…"
In March, I wrote this about Raimondo: "Gina Raimondo will surely always represent Rhode Islanders above her out-of-state Wall Street donors … the question is how close of a second will the Wall Street donors be."
But now I'm starting to think Mike McDonald got it right when he wrote that her moral obligation seems to reside with Wall Street first and us Rhode Islanders somewhere after that.
For sale from Raimondo: access to public records

,