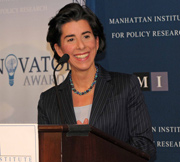 Don't file this one under Raimondomia as Forbes offers a very harsh criticism of General Treasurer/gubernatorial candidate Gina Raimondo. Ted Siedle writes that Rhode Island's pension reform, which has attracted many accolades, "will inevitably dramatically increase both risk and fees paid to alternative investment managers, such as hedge funds and private equity firms."
And those were among the kinder words he had for Raimondo and her pro-Wall Street prescription for pension reform.
There's no prudent, disciplined investment program at work here—just a blatant Wall Street gorging, while simultaneously pruning state workers' pension benefits. It's no surprise that some of Wall Street's wildest gamblers have backed her so-called pension reform efforts in the state legislature. Former Enron energy trader emerges as a leading advocate for prudent management of state worker pensions? That's more than a little ironic.
Siedle, who bills himself as "the pension detective," offers several critiques of how Raimondo is investing Rhode Island's pension fund, saying her high risk strategy seems designed to benefit the financial industry more than retirees or taxpayers. He also writes, "The pension committed $5 million in 2007 to a Point Judith II venture fund managed by the soon-to-be Treasurer. Someone should take a close look at the merits related to the decision to invest in Point Judith II."
And he offers particularly harsh criticism of Raimondo's relationship with Engage Rhode Island:
Any connection, direct or indirect, between the pension and donors to this tax-exempt political organization backing the Treasurer should be investigated, in my opinion. The lack of transparency and regulation related to alternative investments gives rise to almost endless possibilities for abuse and I've learned to expect anything.
I thought this was one of his most interesting observations: "'The cost of public employee benefits in most states and communities is unsustainable,' says the foundation's website. Not-so-sure about that; on the other hand, it is well-established that the cost and any short-term outperformance of hedge funds are unsustainable. The cure for unsustainable pensions is unsustainable investing?"
So what does sustainable mean? Is it what taxpayers can afford to spend, or what they want to spend?
Forbes Trashes Raimondo

,