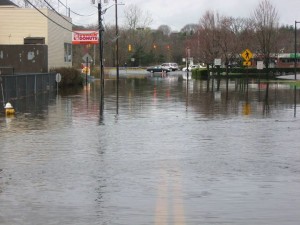 The impacts of climate change are being felt by Rhode Islanders. Increased flooding of river and coastal communities, rapid erosion of beaches, and more extreme heat during summer months are threatening our environment, public health and infrastructure. That's why the
EcoRI and Environment Council of RI are hosting a gubernatorial forum devoted specifically to addressing climate change
, featuring Todd Giroux, Clay Pell, Gina Raimondo and Angel Taveras on April 24 at Brown University's List Art Building (room 120).
The event is free and open to the public.
The Climate Change Colloquy for Gubernatorial Candidates will focus on why climate change should be a top priority for state action. The program will consist of presentations from John King, Professor of Oceanography at URI, and Timmons Roberts, Professor of Environmental Studies at Brown, followed by an opportunity for candidates to explain how they would address climate change mitigation and adaptation if elected.
Check out the event on Facebook.
Contact: Greg Gerritt, environmentcouncil@earthlink.net or (401) 621-8048