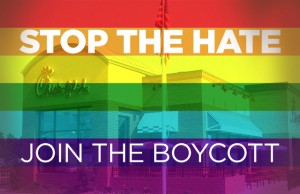 As if there aren't enough reasons already to dislike a fast food conglomerate that traffics in both factory-farmed fried chicken and, it turns out, wing-nut Christian fundamentalism, Chic-fil-A had to go and give us yet another reason not to want to purchase their product.
The fast food chain restaurant evidently doesn't believe in equality.
Company CEO Dan Cathy recently told the Baptist Press: "We are very much supportive of the family — the biblical definition of the family unit. We are a family-owned business, a family-led business, and we are married to our first wives. We give God thanks for that."
It's really just the latest example of how this creepy company owned by a family of anti-gay religious zealots have crusaded against sexual equality and the LGBTQ community has long organized against the Cathy family business and its bigoted beliefs.
Mayors from some of the nation's biggest cities, either seeing an opportunity to stick up for equality or a political one, quickly fired back.
Mayor Tom Menino pulled no punches when he wrote to the Cathy:
In recent days, you said Chick-fil-A opposes same-sex marriage and said the generation that supports it has an "arrogant attitude." Now — incredibly — your company says you are backing out of the same-sex marriage debate. I urge you to back out of your plans to locate in Boston.

You called supporters of gay marriage "prideful." Here in Boston, to borrow your own words, we are "guilty as charged." We are indeed full of pride for our support of same sex marriage and our work to expand freedom to all people. We are proud that our state and our city have led the way for the country on equal marriage rights.

I was angry to learn on the heels of your prejudiced statements about your search for a site to locate in Boston. There is no place for discrimination on Boston's Freedom Trail and no place for your company alongside it. When Massachusetts became the first state in the country to recognize equal marriage rights, I personally stood on City Hall Plaza to greet same sex couples coming here to be married. It would be an insult to them and to our city's long history of expanding freedom to have a Chick-fil-A across the street from that spot.
Chicago Mayor Rahm Emanuel added: "Chick-fil-A's values are not Chicago values. They're not respectful of our residents, our neighbors and our family members. And if you're gonna be part of the Chicago community, you should reflect Chicago values." A Chicago alderman even went so far as to say he would vote against the eatery in their business application to the city.
Good for these elected officials' who had the healthy instinct to stick up to such blatant bigotry, but they shouldn't be trying to beat the Cathy clan at its own game.
Yes, that's correct … discrimination has long been part of Chick-fil-A's business model. This from MinnPost:
Few knew that founder Truett Cathy had firm opinions about the personal lives of the owners of Chick-fil-A's 1,600 franchises and their employees. He preferred them married, and expected adherence to the company's stated mission to "glorify God."

"Family members of prospective operators — children, even — are frequently interviewed so Cathy and his family can learn more about job candidates and their relationships at home," Forbes reported in 2007, when Cathy was 86.

" 'If a man can't manage his own life, he can't manage a business,' says Cathy, who says he would probably fire an employee or terminate an operator who 'has been sinful or done something harmful to their family members.' "
Let's allow the marketplaces to punish Chick-fil-A. This company is sure to do itself in – its already been busted making fake Facebook profiles to defend itself on social networking sites and a large component of its marketing campaign is misspelling chicken as "chikin." At least I'll give the Cathy family the benefit of the doubt and assume the spelling error was on purpose – though with a name like Chick-fil-A, who knows…
We're lucky there are none here in Rhode Island, so we already can't put any money in their pockets – but let's remember this story in case they ever want to locate here. And here's where the marketplace of ideas can contribute as well: spread the word about this bigoted business or, better yet, spread the word about National Same Sex Kiss Day at Chick-fill-A on Friday August 3.
Since RI doesn't have a Chick-fil-A maybe we should hold our same sex kiss day outside the state Senate chambers instead … it's the only local group nearly as opposed to marriage equality…