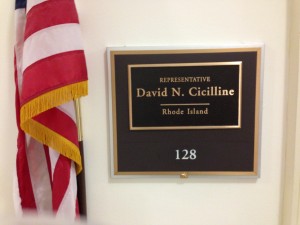 WASHINGTON, DC — I am in Washington, representing both RIPDA and myself, arguing against a military response to the recent horrific use of chemical weapons in Syria.
I had the good fortune to talk to Rep. Cicilline staff members in his DC office today about his position on such a strike. The staffers indicated that the Representative is listening to his constituents carefully and intently. This was borne out by their careful consideration of our anti-war thoughts on the Syrian situation. The Representative has yet to make a final decision on a possible US response.
However, Rep. Cicilline's current thinking is that all possibilities should be explored before any military action is taken, and that such a decision be made with great care and deliberation. Note that in his capacity as a member of the House Foreign Affairs Committee he has current knowledge on the deliberations in the House, as well as influence on the outcome.
I say "current thinking" with a grain of salt. The situation is quite fluid. Things were developing as we talked. Due to no fault of their own,  and understandably so, I seemed to have more current info than the staffers did, the latest New York Times posting having occurred 4 minutes before our 11:30 AM meeting.
More and more nations and diplomats are lining up behind Russia's Sec'y Kerry-derived proposal for international monitoring and destruction of Bashar Assad's chemical weapons. This includes a high-ranking Syrian official; according to an earlier New York Times post:
BEIRUT, Lebanon — The Syrian prime minister, Wael al-Halki, said Tuesday that his country supported a Russian proposal for the Syrian government to give up chemical weapons to avoid a possible military strike by the United States.

Syrian state television quoted Mr. Halki as saying that the government backed the initiative "to spare Syrian blood."

(Emphasis is mine.)
Right now, 1:30 PM, diplomatic developments are still happening fast and furiously, at the UN, the Congress, and the White House.
I'll post again later today, as I am able to.
Gus Uht
Cicilline still on fence re: Syria, advises caution

,