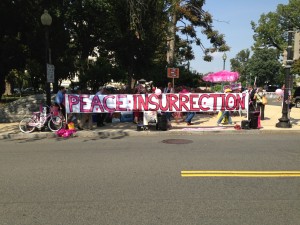 Yesterday, I spoke with staffers of Congressman David Cicilline in order to try to influence the Rep. to vote against military action against Syria for its August 21 use of chemical weapons. Cicilline has yet to comment himself.
The situation remained highly fluid throughout the afternoon. I was able to talk to staffers of Sen. Sheldon Whitehouse and Rep. James Langevin, and leave a synopsis of my/RIPDA's position with Sen. Jack Reed's office. All of the RI Congressional delegation's offices were very accommodating with their time, very professional and very competent.
Things changed while going from office to office over the span of about three hours. Be that as it may, I think Rep. Langevin's assistant effectively spoke for all of the RI delegation, indeed probably most all Congressmen, when at the end of the afternoon he said that there was nothing Rep. Langevin had to vote for or against any more, with the UN Security Council still hotly formulating a resolution suiting all.
While this was a bit of a cop-out (Rep. Langevin still might have come out against military action regardless of the final resolution), it certainly had a lot of truth to it, and not much time had passed for the Rep. to determine a new position. Indeed, supposedly the House Foreign Affairs Committee meeting on Syria earlier in the day didn't have a chance to focus much on anything, with the developments occurring as fast as they did.
The overall sentiment here seems to be to conditionally support the Russian proposal, but the international monitoring of Syria's chemical weapons and the latter's destruction would have to be quick and verifiable. There is also the sticking point that Russia wants no threat of military action in the resolution, while the US does. Hopefully a compromise will occur.
In other action, Codepink was across the street from the Cannon House Office Building demonstrating against military action (see the picture; that's Ellen on the  right, yours truly on the left, and a stand-in in the center).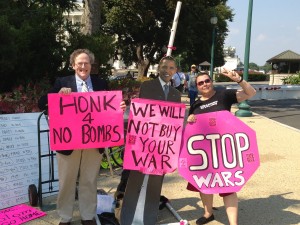 They have been there for several days now, nonstop. They have a rally planned for later in the evening, 7 PM, outside the White House. That may have changed, I don't know, since the President's address is not due to start until 9 PM ET.
Well, the news will likely still stay interesting over the next few days.