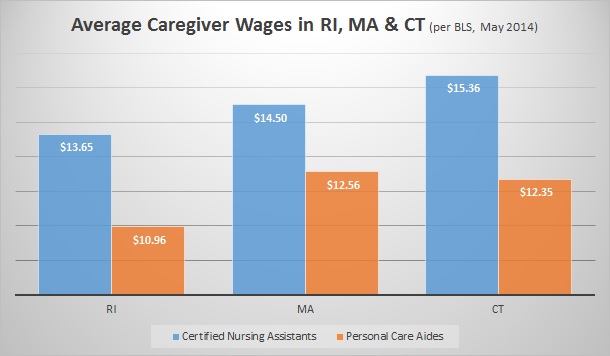 Health care workers and allies will host a press conference and policy brief at the State House on Wednesay to advocate for Medicaid changes to improve the system of long term care and support a living wage for caregivers. SEIU District 1199NE, which represents approximately 4,000 health care workers in RI, will be issuing a new policy brief with proposals to improve the way the state invests in Medicaid funded programs in long-term care and create a pathway to living wages for caregivers (including staffing policies to improve quality of care and reduce re-hospitalizations).
A recent poll conducted by Fleming and Associates found that 69% of Rhode Islanders support paying a living wage of $15 per hour for frontline workers in nursing homes and community based agencies caring for those with developmental disabilities. Copies of the poll results will be available at the event.
WHO: Frontline caregivers (including CNAs and Direct Care Staff) and Leaders of SEIU 1199NE and Women's Fund of RI
WHAT: Policy Brief & Press Conference about Medicaid changes that strengthen the system of long term care and support a living wage for workers
WHEN:

Wednesday, May 13, 2015 at 2:15pm

(Press Conference and unveiling of Medicaid policy brief) followed by lobbying visits at

3:30pm

WHERE: State House, Room 101
Caregivers have an important voice and perspective in the current debate about improving Medicaid funded long term care system in Rhode Island. Frontline health care workers provide compassionate care and in many instances play the role of family for their residents and clients; despite this many CNA's and Direct Care Staff are not earning enough to support their own families.
A 2013 analysis using survey data from a nationally representative sample of 1174 nursing homes demonstrated that nursing homes with high CNA turnover had more than triple the odds of resident pain, and approximately double the odds of both pressure ulcers, and urinary tract infections. Also, a Kaiser Family Foundation report suggests that improving staff-to-resident ratios and reducing turnover is one strategy to assist in lowering avoidable re-hospitalizations.
While Rhode Island spends a comparable amount on Medicaid as Connecticut and Massachusetts, compensation for caregivers lags behind our neighbors (see chart below).  Many health care workers in Rhode Island are joining the growing national #Fightfor15 campaign demanding a living wage of $15.