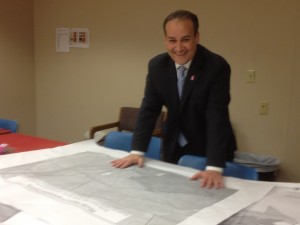 It's getting harder all the time to believe that Anthony Gemma is truly a Democrat. It just often seems more likely that his campaign is all some big elaborate hoax. Or, perhaps, Gemma is demonstrating his true political acumen.
Either way, Buddy Cianci had him so tied up in knots the other day that the only member of Rhode Island's congressional delegation that he said he would vote for this November would be himself and Jack Reed. Neither of whom will be on the ballot.
When Buddy asked if he would support any of the other Rhode Island Democrats running for Congress he tried to dodge the question. "I'd have to look at the person," Gemma said. Now I don't expect outsiders to be national security experts before they get to office, but you'd think by the time he declared that he was running for congress as a Democrat that he would know enough about the other Democratic legislators from his state to know whether he would vote for them or not.
Then Buddy asked him specifically about Sheldon Whitehouse.
"I'm going to be honest with you," Gemma said to Cianci. "I'm frustrated that he has not stepped up and done what is right for me."
Points for honesty, Anthony, but I won't be voting for anyone who so brazenly puts his own interest first. Vote your conscience, not for a quid pro quo.
Of all the reasons not to vote for Anthony Gemma, one of the most politic that can be cited is that no one knows how he would vote for anything. Now we don't even know if he is supporting the other incumbent members of the party he purports to be a member of – though I have my doubts.
Cianci seemed to as well.
"You're a Democrat," Buddy said. "Or at least you say you are."
Who Does Gemma Support?

,