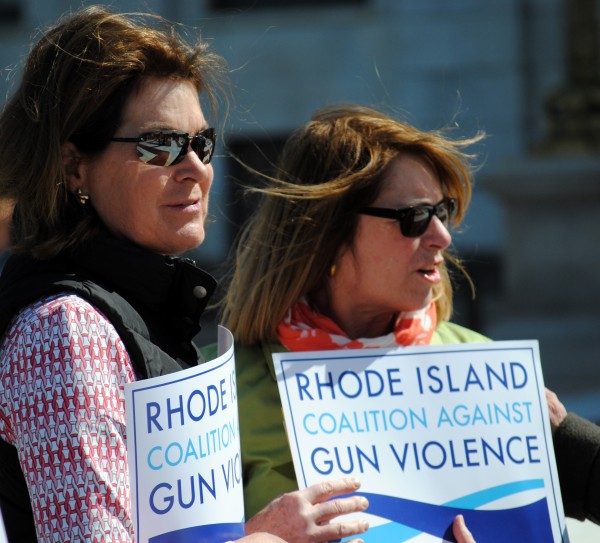 Rhode Island is one of eight states that "continues to fail at submitting records of dangerously mentally ill people who are prohibited from owning guns to the National Instant Criminal Background Check System (NICS)," says gun violence prevention group Everytown for Gun Safety, based on recently compiled FBI data.
Jack Warner, spokesman for the group, said, "Each record is critical.  In fact, the Virginia Tech shooter in 2007 was able to buy his gun because his mental health records had not been submitted… RI is still among the worst-performing states."
Due to the vast influence of the National Rifle Association (NRA) on the General Assembly in Rhode Island, no meaningful legislation has passed in this state limiting access to guns in years. Not wanting to take any meaningful action after the terrible shootings in Newtown CT, in which 20 children and six adults lost their lives to a shooter, the Rhode Island General Assembly convened a task force to deal with the issue of mental health and guns.
The report compiled by that task force, "Behavioral Health and Firearms Safety Task Force to Review, and Make Recommendations for, Statutes Relating to Firearms and Behavioral Health Issues" made a series of recommendations for legislation that might improve Rhode Island's participation in the NCIS program, none of which were followed up on by the General Assembly this legislative session.
According to Everytown, "States that have taken steps to improve record-sharing have seen tangible results, not just in record submission, but in background check denials to dangerous people.  In 2014, 342 gun sales to seriously mentally ill individuals in South Carolina were blocked by background checks, up five-fold from just four years before."
Rhode Island has submitted only 27 reports to the NICS.  To join with the best performing states Rhode Island would have to submit 8,505 records. According to Everytown, "20,400 gun background checks were conducted in Rhode Island in 2012 using this incomplete database, which fails to block gun sales to the hundreds of thousands of prohibited purchasers whose mental health records are not in the system."
In addition to do nothing about keeping guns out of the hands of the mentally ill, the General Assembly also failed to move forward on a bill designed to keep guns out of the hands of domestic abusers. Yet when Speaker Nicholas Mattiello brought the legislative season to an abrupt end, last week, he said that the bills that did not come to the floor were "not very consequential" and "just not as important" as the legislation he dealt with and passed.
"It is inconceivable that domestic violence could be seen as trivial or characterized as inconsequential…" said the Rev. Gene Dyszlewski, Chair of the Religious Coalition for a Violence-Free RI.
"The person who has been violent in the home has already lost the trust of his family and of most reasonable people.  What more do we need? Rhode Island families deserve better. For a legislature that has accomplished so little, this could be the crowning achievement; instead it is a mark of shame."
The General Assembly's inaction on guns

,