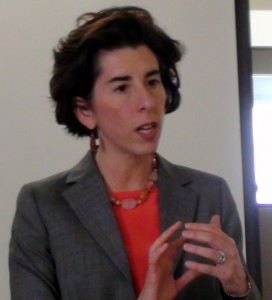 What do you call a public official who supports equal pay for women and minorities, is pro-choice, supports equal rights for the LGBTQ community, recognizes the seriousness of the threat of climate change, fights income inequality and wants to not only raise the minimum wage, but also index it to inflation?
Apparently you call this person a right wing extremist—but only when you're talking about Gina Raimondo.
For Rhode Island liberals, it's taken as an article of faith that Raimondo is a conservative wolf in Democratic sheep's clothing, based only on her (successful? we'll see) attempt to stop the state's runaway public employees' pension train. The fact that this notion is so pervasive among progressives is a testament to how much unions—especially public sector unions—dominate the Liberal/Progressive scene here in Rhody Land.
We can debate the way in which the Treasurer went about bringing pension reform to fruition, but there is no question that it was both absolutely necessary and very popular with the general public. But let's set this one issue aside for a moment, step back, and take a big-picture look at our Democratic nominee for Governor.
Remember way back when instead of full marriage equality we got a watered down "civil unions" law? Raimondo supported full equality through all of it. She's unabashedly pro-choice and has been endorsed by EMILY's List—and with her Republican opponent being backed by RI Right to Life, we can be sure Planned Parenthood will come out with their endorsement of Gina any minute now.
Sure, she's "socially liberal." But what about on economic issues?
I already mentioned her support for raising the minimum wage. Even the more-conservative-than-it-should-be Rhode Island House raised the wage two years in a row. But Gina supports taking it a step further and not just raising the minimum wage to $10.10 an hour but also indexing it to inflation.
But most significantly, Gina has been a fierce advocate for reigning in the truly evil practice of predatory lending. This is a big deal. Right now, our pseudo-Democratic leaders in the General Assembly are pretty much in the pockets of the payday loan sharks, and the working men and women of Rhode Island are suffering because of it. I hope Gina continues to support Payday Lending Reform—we know how well she wields a bully pulpit, and she'll have a much bigger one if she wins in November.
So if you are an Angel Taveras or Clay Pell Democrat trying to figure out how you can possibly support Gina in the general election, hopefully I've given you enough here to help you to vote for your party's nominee without having your head explode.
And if you're seriously considering voting for Allan Fung, well, then you've got to ask yourself whether or not you were a Democrat in the first place.
[Oh yeah and before y'all get crazy in the comments, let me save you some time: I'm not "anti-worker" or even "anti-union." I fully support workers' right to organize and collectively bargain—just like Gina Raimondo does. You can call me a "DINO" if you like—since I do it to people all the time, that's only fair. But if you're over the age of 35 and/or connected to the old school Party, forgive me if I take it with a grain of salt. And Sam Bell: you can say "pension cuts" instead of "pension reform" all you want—the cuts were part of the reform, and I still love you.]