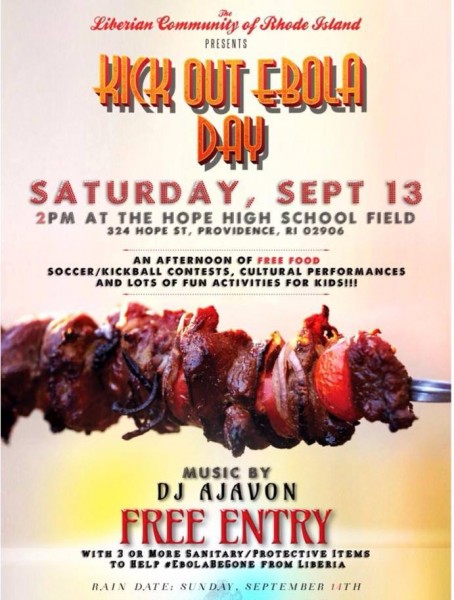 The Ebola pandemic in West Africa has killed thousands and threatens thousands more. The world response has been inadequate, and much more can and should be done. The Liberian community here in Rhode island is the largest in the United States, and supporting our neighbors should be a priority.
To that end the Liberian Youth in Rhode Island have invited everyone in our community to attend the "KICK OUT EBOLA DAY: A COMMUNITY PICNIC & SUPPLY DRIVE to continue our efforts to RAISE AWARENESS and COLLECT SUPPLIES to help fight the Ebola outbreak in Liberia."
●PLACE:
Hope High School Football Field
324 Hope St, Providence, RI 02906
●TIME: 2PM
●DATE: Saturday, September 13th, 2014
ADMISSION: Free Admission with 3 or More Sanitary/Protective Items to Help #EbolaBeGone from Liberia.
These items include disposable gowns and hazmat suits, antimicrobial hand soap, Clorox bleach, chlorine tablets, disinfectants, hand sanitizers, gloves, obstetrician gloves, medical buckets with faucets, plastic spray bottles, goggles, plastic aprons, mouth masks and CAVI and HYDE brand wipes. Do not bring water or paper towels. These items are to be shipped to affected areas. No checks or monetary donations will be accepted.
For More Information PLEASE CONTACT: 401.865.9830