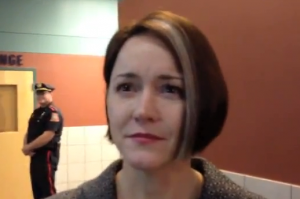 If Deborah Gist's op/ed in the Providence Journal were a high stakes graduation test, the commissioner of education would be in danger of not graduating.
Gist poses six questions that have been raised about the very highly-charged, statewide debate about using the NECAP test as a graduation requirement. In each, she says the detailed research and dissident opinions offered by opponents of the NECAP and/or high stakes tests in general are all incorrect.
For Rhode Island's edification. Like a teacher should do for a wayward student, RI Future corrects her Q&A with herself, but as in life and politics (but not in Gist's rhetoric) there are no absolutes. So we don't grade, we offer insight.
Question: Is it true that Rhode Island students can fail to graduate on the basis of a single, standardized test?Answer: No. The truth is that, in Rhode Island, we use multiple measures to determine whether students are ready to earn a diploma and to succeed beyond high school. The measures include course completion, performance-based demonstrations of proficiency (such as senior projects), and success on state assessments or on other approved assessments.Reality: In fact, both the above question AND answer are true (except for the part where Gist says the answer to the question is "No"). What Gist has done here is offered a false equivalent. A more true answer is that it is unlikely that a single, standardized test is unlikely to prevent graduation but it can happen – and is more likely to happen to students in poor districts with disinterested parents.
Question: Is it true that students have to pass the NECAP in order to graduate?Answer: No. The truth is that students who score partially proficient or better when they take the NECAP in grade 11 have met this graduation requirement. Those who have not yet met the graduation requirement will have two opportunities to retake the NECAP again in their senior year. If they improve their score, they have met this graduation requirement — regardless of their performance level. RIDE has also approved 10 other assessments, including the PSAT and the Armed Services Vocational Aptitude Battery, that students can use to meet this graduation requirement. In addition, waivers are available for students for whom — for any reason — tests of any kind are not a good measure of their abilities.Reality: This answer is true. It's basically a different way of wording the first question. So, again, for clarity, failing the NECAP test CAN cause a student not to graduate but no student MUST pass the NECAP test in order to graduate.
Question: Is it true that the NECAP assessments are not appropriate for use as a graduation requirement?Answer: No. The truth is that the NECAPs are high-quality assessments that we use for many purposes, including guiding instruction, informing parents about student progress, and as part of the decision-making about placement, services and graduation. The NECAPs require students to provide written responses to questions that show their thinking and reasoning. Designed on the same model as the MCAS assessments used as a graduation requirement in Massachusetts, the NECAP is an appropriate test for use as one component of a diploma system.Reality: It is true that Deborah Gist thinks it is appropriate. It is true that Eva Mancuso said it was appropriate but perhaps not the best test to use. It is true that the company that makes the test has changed its opinion from agreeing with the question by policy to making a public statement for the benefit of Rhode Island that it changed its opinion. And it is also true that Tom Sgouros did amazing research journalism showing why the NECAP is not an effective metric of measuring individual student performance.
Question: Is it true that the NECAP requirement penalizes students who haven't received an adequate education?Answer: No. The truth is that handing diplomas to students who are not ready for success penalizes students. Although we recognize that schools cannot make up for years of poor, inadequate education with one year of instruction and support, the opportunity to graduate by showing growth ensures that our graduates are at least making progress toward proficiency. This opportunity also ensures that students aren't penalized for something beyond their control.Reality: Testing on material that has not been adequately taught absolutely, positively does penalize students. Gist does Rhode Island a grave disservice by not answering this question honestly. Instead, she says the converse – giving a student a diploma on material they have not been adequately taught – penalizes students. Again, she is offering readers a false equivalent as both the question and the answer are correct. Proponents of high stakes tests tend to think giving a student a diploma based on material they may not have received an adequate education in is worse than testing a student on information they have not received an adequate education in, and vice versa. But to say that students who are tested on material they have not received an adequate education in are not being punished is simply ignoring a portion of the issue.
Question: Is it true that, because Rhode Island will introduce a new assessment in 2015, we should wait until then to include assessments in the diploma system?Answer: No. The truth is that at present 75 percent of our recent graduates who enter the Community College of Rhode Island must take remedial courses, at their own expense, before they begin to earn credits. We cannot let this continue. We must provide all students with the education they need and deserve — while it is our responsibility and while it is their right.Reality: We don't need to fail or stress any graduating seniors in order to make sure the few that go to CCRI know what they need to know.
Question: Is it true that the NECAP encourages test preparation and "teaching to the test"?Answer: No. The truth is that schools where students perform well on state assessments do not focus on test preparation. Rather, teachers in these schools provide great instruction that engages students on many levels and teaches key academic skills: solving problems, reasoning well, writing clearly, reading with precision, thinking creatively, grappling with abstract ideas. The NECAP, unlike many typical machine-scored, fill-in-the-bubble tests, also requires students to write out responses to questions — showing what they know and how they think. Test preparation and rote memorization will not improve performance on this kind of high-quality assessment.Reality: I give Gist an incomplete on this answer, because it only speaks to the school districts "where students perform well on state assessments," according to her own words. How about in the districts where students don't perform well on state assessments? You know, the high schools where students tend to go to CCRI after graduation – the very same students you were so concerned with in your previous question to yourself…
Gist Q&A with herself doesn't earn passing grade

,