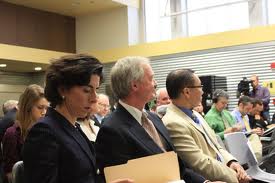 WPRI's Ted Nesi poses this question in the most recent Saturday Morning Post:
"Running as an independent could let [Gina Raimondo] avoid a bruising nomination battle and save her growing war chest for the fall campaign, where she'll face a less liberal electorate. The treasurer is canny, and she believes in numbers: if an independent run makes the most strategic sense, why wouldn't she pull the trigger?"
Nesi is asking the question based off assertions from unnamed pro-Raimondo sources, who want Raimondo to skip the Democratic primary (because it'll be expensive and could be close) and concentrate solely on winning in November. But before we get all in a titter about another four-way race in Rhode Island, it's important to look at how Nesi hedged the question: "makes the most strategic sense." Simply put, running independently does not make the most strategic sense. I'll walk through the campaign issues first, and then deal with the governing problems after.
1. It doesn't avoid a negative campaign.
That's one assumption there; that the cost of a Democratic primary will be in vicious attacks that will leave the eventual nominee so damaged that the Republican will swoop in and pick off disgusted Democrats and unaffiliated voters. But circumventing the primary doesn't dodge those attacks; especially if the treasurer's race become a debate largely about Raimondo's current pension policies. In the gubernatorial race, it just sets the starting date for those attacks at a different date, as now the GOP nominee and the Democratic nominee get to open fire without worrying about hamstringing themselves in their own primaries.
2. It potentially saves Angel Taveras money as well.
Yes, an independent doesn't have to go through that messy primary process, they just automatically get to go to the general election (once enough signatures are valid). But Raimondo and Taveras are the only two candidates who could've challenged one another in a Democratic primary. If one bows out (or never declares), the remaining candidate can virtually get by on sheer name recognition and popularity without spending much money. In fact, if Raimondo goes independent and Taveras remains in the primary race, it should boost his fundraising as he becomes the presumptive frontrunner thanks to the strength of the Democratic Party.
3. Rebuilding the value of the Democratic Party is going to be costly.
While there's more then enough bellyaching from all sides that Rhode Islanders will vote for anyone labelled on Democrat on the ballot, that ignores that beyond the base effects, this ignores that the Party is the most powerful campaigning apparatus ever in history. And that might not even be exaggeration. Ever since Howard Dean became chair and following two Obama campaigns, the technological and informational advantage the Party conveys onto its candidates shouldn't be underestimated. An independent candidate can mitigate this somewhat by appealing to unions who have decades of experience in organizing, but that way is mostly blocked for Raimondo. This is why in response to fundraising it's best to keep in mind Voltaire's dictum, "God is not on the side of the big battalions, but on the side of those who shoot best." Money can buy you a lot of the best shots. But it's cheaper if they don't need to be bought.
4. It isolates you from a base.
Observers might be tempted to compare Raimondo running as an independent to Lincoln Chafee running as an independent. It's a bit apples and oranges. If Raimondo runs as an independent, it'll be seen solely as a political move with the goal of advancing Gina Raimondo (and that holds true for any candidate who jumps parties too close to the campaign). Chafee made himself an independent long before he ran for governor, on a matter of principle, and campaigned for President Obama in the interim. When Chafee lost in 2006, it seems easy to proclaim in retrospect that his political career was effectively dead. And he would not be governor today were it not for Frank Caprio shooting himself in the foot. If Raimondo leaves the Democratic Party, she proves the pronouncements from various left-wingers that she's a "Democrat-in-name-only" and also removes the partisan support she could've relied on. I know a recent post of mine attracted comments from self-proclaimed "lifelong Democrats" that they'd vote for Allan Fung should Raimondo win the Democratic primary, but that's just foolish. At least Raimondo couches her language in traditional Democratic priorities. Fung isn't going to give any quarter. If Raimondo tosses aside her party, she has to rely on unaffiliated voters who aren't hard partisans and disaffected partisan voters who don't believe that their nominees better represent their interests. And frankly, there simply aren't enough of those without extraordinary circumstances like in 2010.
I'll stop there on the horse-race bit, because I want to talk about what's more important: how does an independent governor govern? The answer: not well. We can see this in Chafee's major push for a constitutional convention when he announced he would not seek re-election. Chafee knows all too well the limits of gubernatorial power, especially as an independent. It's mostly limited to a few things: proposing a budget, vetoing, and use of the bully pulpit. There are other powers; but it would take a creative executive to utilize them. Chafee recently made the argument on Newsmakers that without the line-item veto it's difficult to fight the General Assembly on spending. Given the way the budget just nearly passed (and saw a leadership amendment defeated), a more combative governor might've been able to open fissures within the General Assembly by vetoing the whole budget.
But that kind of dynamic is more typical of the Republican governor versus the Democratic General Assembly, where the two branches act as foils for one another. It's also been more than two decades since we had an elected Democratic governor, who supposedly functioned as a leader of the Party (I'm too young to remember, so I'll rely on confirmation from my betters on that point). Would Raimondo forgo that kind of responsibility? Or the advantage it confers; when the priorities of the Governor and the priorities of the General Assembly are supposed to be aligned thanks to single-party control? Because that's what's being given up in an independent run, the ability to lobby from within the leading political party.
Raimondo as head of government might be a more striking a figure than Chafee's been, but there's something about independent officials that make them less standard-bearers and more referees. No one likes referees, and there's a lot of kicking while their backs are turned. Chafee's primary opposition hasn't come from the Democrats or Republicans, it's come from talk-radio. And I think that's largely because an independent governor lacks a requirement to be dealt with. If an independent governor needs something passed, they need to build an ad hoc coalition for the issue. And there's no electoral benefit for a legislator to join, since if they cross leadership, the independent governor can't back them up in a primary fight. A Democratic governor can promise to go to bat for their supporters, much as Raimondo promised when pension reform was passed. Raimondo understands the power in that.
So to me, it seems obvious; running as an independent needlessly handicaps both Raimondo in the campaign and in her future political career as well. For whatever reason, there seems to be a desire for some big name to run as an independent, Caprio was previously bandied about. But I just don't see it happening.
Why Raimondo won't run as an independent

,