Though the Middletown Town Council was the first municipality in Rhode Island to take up the issue of whether or not to support the Burrillville Town Council in opposition to Invenergy's proposed $700 million fracked gas and diesel oil burning power plant, on Thursday the Glocester Town Council became the first municipality in the state to pass it. Lead by Council President Walter MO Steere, the resolution was passed unanimously.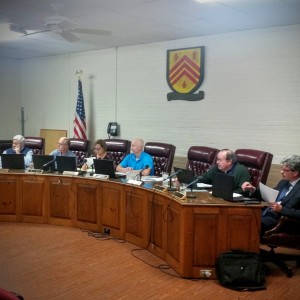 Before the resolution could be passed, two town councilors took the opportunity to address some rumors that had been swirling about town. Councilor George Steere said that he was not negotiating to sell water to Invenergy, whose application before the Energy Facilities Siting Board has stalled due o a lack of water to cool its turbines. (Invenergy is currently pursuing a deal with Woonsocket, and perhaps other suppliers.) The rumors, said Steere, originated from an effort begun in 2011 when he was approached to potentially supply water to Pascoag in the aftermath of that town's water contamination crisis. Crushing the rumor entirely, Steere said, "There will never be one gallon of water from my property [used] to cool a power plant."
Councilor William Reichart wanted to assure those in attendance that his company, Reichert & Sons Fuel Oil Inc. was in the business of supplying heating oil to homes and small businesses and was in no way able or willing to supply Invenergy with the diesel oil needed to ill its million gallon tanks.
Three residents from Burrillville, Ray Trinque, Paul Roselli and Jeremy Bailey, spoke before the town council, and about a dozen more attended the meeting.
Glocester Town Council supports Burrillville in opposition to power plant

,