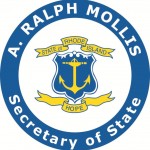 Rhode Islanders can use our website to see who filed to run for local, state and federal office on the first day candidates could make it official.
The on-line Candidates Database includes the name and office of everyone who filed a formal Declaration of Candidacy on Monday.
Rhode Islanders who are thinking about running for office have until this Wednesday at 4 p.m. to file in order to be eligible to appear on this year's ballot. We will update the database nightly so you can wake up to the previous day's filings.
Candidates for the U.S. House of Representatives and U.S. Senate and electors for independent presidential candidates must file with our Elections Division, 148 West River St., Providence. Voters who plan to run for state or local office must file with the board of canvassers in the city or town where they are registered to vote.
The next important milestone in the election calendar occurs from July 3 through July 13, when candidates must collect the signatures of enough eligible voters to officially put them on the ballot. The thresholds range from 50 signatures for some municipal offices to 1,000 signatures for U.S. Senate.
This year there will be contests for many municipal offices, General Assembly, the U.S. House of Representatives and the U.S. Senate. The statewide primary is Sept. 11 and the general election is Nov. 6.