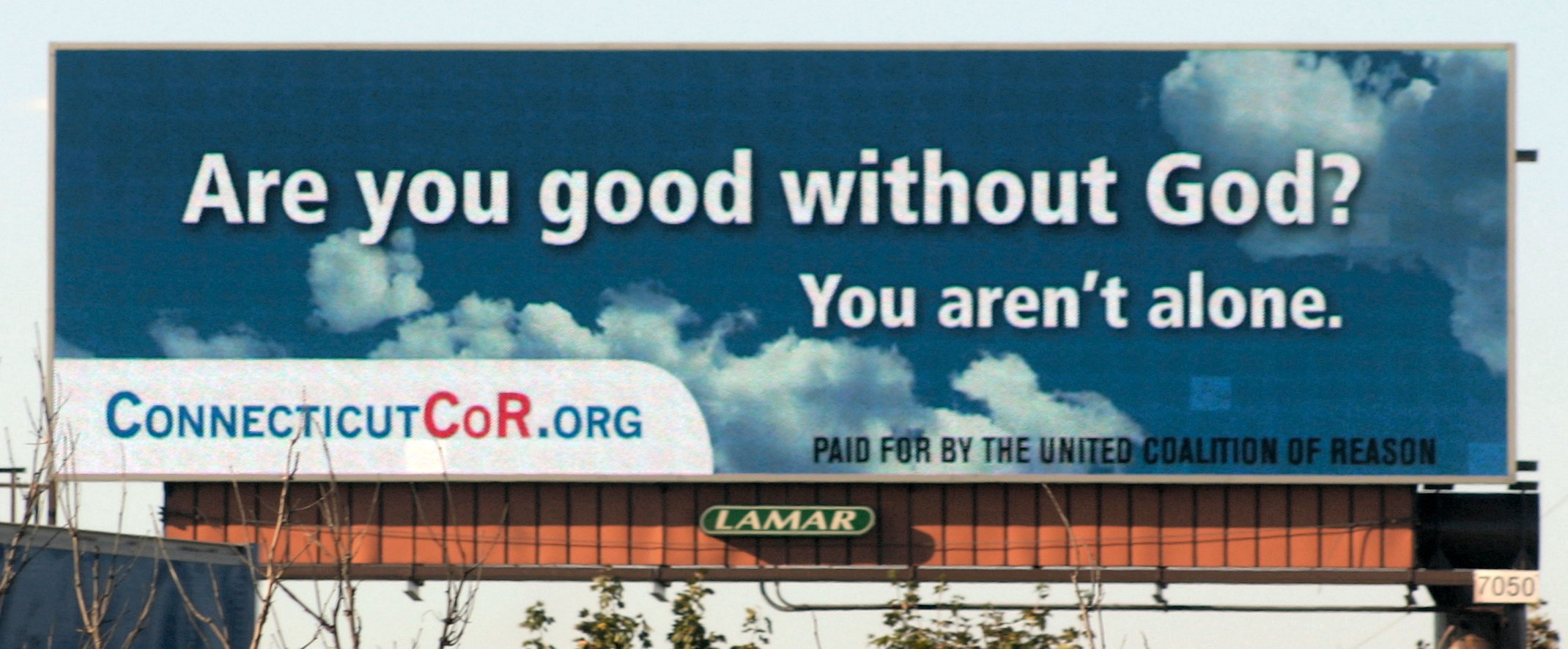 "Are you good without God? You aren't alone."
These words, superimposed over an image of a blue sky with clouds, now appear on two prominent 14 x 48' digital billboards on Interstate 91 South. One is in Hartford south of exit 34, facing north. The other is in New Haven north of Ferry Street, facing northeast.  The two will remain up through November 10, heralding the first ever statewide secular conference, the Secular Assembly for the North East (SANE).
This conference is being held October 19, 2013, in Bartels Hall at the University of New Haven, 300 Boston Post Road, West Haven, CT 06516. Three of the featured speakers are Jessica Ahlquist, the Rhode Island high school student who successfully challenged a prayer banner at her school (and, full disclosure, my niece); David Silverman, president of American Atheists; and David Niose, the attorney who litigated the recent Pledge of Allegiance suit in the Massachusetts Supreme Judicial Court.
The billboards have been placed by the new Connecticut Coalition of Reason (Connecticut CoR) with $10,000 in funding from the United Coalition of Reason (UnitedCoR). Its appearance marks the public launch of Connecticut CoR, which is an alliance of eight atheist, humanist, secularist and skeptic groups working together across the state.
I had a quick conversation with Dan Blinn, coordinator for the Connecticut CoR about billboards and the "atheist awareness movement."
Steve Ahlquist: So what is it with atheists and billboards?
Dan Blinn: Have you ever driven through the South?  You can hardly go a mile without seeing a religious billboard.  We have them in Connecticut as well, just not quite as many.  All kinds of groups rely on billboards because they are effective at delivering a message.  Besides, when you consider that over 20% of Connecticut residents have no religious affiliation, two billboards isn't so very many.
Ahlquist: Why can't you atheists just be quiet about your (non)beliefs? Why do you have to rub the rest of the world's noses in it?
Blinn: We're reaching out to non-theists, secularists, humanists, skeptics, and freethinkers to let them know that they are not alone.  We have a big community of similarly minded people.  The new Connecticut Coalition of Reason has eight groups, each of which offers something different.  We also want to let people know that we are a part of this community.   We live all over the state.  We  are your friends, neighbors, family members, and coworkers. You might even find some of us sitting next to you in church!
Ahlquist: Is the upcoming SANE conference going to be a bunch of atheists sitting around talking about what they don't believe in?
Blinn: That would be a very short discussion.  There is plenty that we DO believe in.  For example, we believe in the importance of keeping religion out of politics. We believe that children should be treated with science-based medicine when they are sick and not forced to rely upon prayer and superstition.  And, we believe that human morality and ethics can be based upon the intrinsic merit of our actions, that we can be good without God.
Ahlquist: Can you give me one good reason to be an Humanist?
Blinn: Once you accept that this life is all there is going to be, it becomes really important to make it as meaningful as you possibly can.
Ahlquist: I'm convinced! How can I attend SANE?
Blinn: SANE is being held October 19, 2013, in Bartels Hall at the University of New Haven, 300 Boston Post Road, West Haven, CT 06516. You can find more information online at Secular Assembly for the North East.
We're also planning an in-SANE after-party at Duffy's Tavern in New Haven!
Ahlquist: I know it's still early, but is SANE going to be an annual event?
Blinn: God willing… and if we generate enough interest and perhaps some new volunteers.
Godless billboards, convention in CT this weekend

,