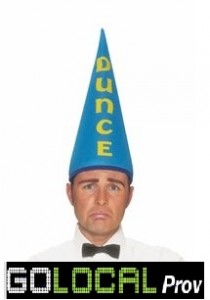 Here's a math question for you. What's wrong with this statement from GoLocal's latest (exclusive!) attack on public education?
Rhode Island spends more per student than most other states, ranking in the top ten nationally, but it's 32nd in the country for student achievement, according to a GoLocalProv analysis of data for all 50 states… In an effort to fairly measure the effectiveness of education spending, GoLocalProv ranked each state by how much it spends per pupil.
Small wonder that's an "exclusive." It's also an incredibly sophomoric method of comparison and reflects a fundamental lack of understand of statistics. None the less, the corporatization crowd jumped right on it as proof of their foregone conclusions:
"This data highlights the stark reality that although we invest heavily in public education in our state, our performance remains unacceptably low," said Maryellen Butke, Executive Director of RI-CAN, an education reform group.

She added: "People should be asking how we're spending that money and how much of it is reaching classrooms."
Well, she's half right. People should be asking how we're spending that money and how much of it is reaching classrooms. Those that do, already know the answer to my initial question about the mathematically challenged GoLocal analysis.
If you're still not with me, ask yourself this:  How fair is it to make comparisons on spending as if the cost of living doesn't vary state to state?  One would expect high cost states to have higher per student spending as well. Surely a reputable analysis would attempt to account for that. In fact, of the top ten high cost of living states only California and Hawaii do not also appear in the top ten spenders per pupil… and Hawaii is 11th. What a shock, eh? Turns out you have to pay people more to work in areas where their costs are higher, and schools aren't magically unaffected by regionally variable expenses like fuel, real estate, etc. The conclusion one would have to draw is that RI spends roughly an average amount per pupil and gets roughly average results. Nothing to crow about, but hardly the crisis these corporate shills would have us believe.
Say I wonder what the average pay is for a journalist in the rural south? I'm guessing there's "proof" there that Beale is overpaid.