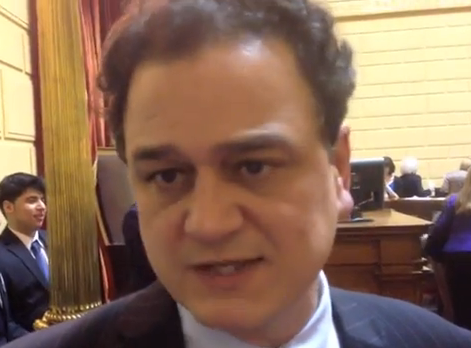 Former House Speaker Gordon Fox is facing three years in jail after agreeing to plead guilty to campaign finance fraud and accepting a bribe, state and federal officials announced this morning. The announcement seems the culmination of the investigation into Fox, a powerful Providence Democrat, that was marked by the high-profile raid of his State House office last year.
"When the search warrants in this case were executed nearly a year ago, there was talk about the State House being 'the People's House.'  I agree completely. The People's House should be occupied by elected officials who hold office to serve the people, not themselves," said US Attorney Peter Neronha in a statement. "As federal and state prosecutors, and federal and state law enforcement officials, we represent the people of the United States and the people of Rhode Island.  And we will go anywhere – anywhere – we can lawfully go to obtain the evidence we need to protect their interests."
Fox, who was said to be the most powerful politician in the state, is accused of using campaign funds for personal expenses. Court documents show he transferred $108,000 from campaign accounts to personal accounts and spent the money at stores such as TJ Maxx, Tiffany's, Walmart, or on mortgage and car payments.
"Often the balances in Fox's personal accounts, including his law office account, were insufficient to cover his and his partner's monthly expenses," according to court documents. "The amounts that Fox transferred were typically utilized in one week, often days, to pay various bills."
Court indicate money was transferred from campaign accounts starting in 2008 through 2014.
Fox is also accused of accepting a $50,000 bribe for help obtaining a liquor license in 2008 when he served on the Providence Board of Licenses, an accusation Attorney General Peter Kilmartin said came to light after the raid of Fox's office.
"During the investigation, when the evidence of the bribery was discovered, the state possessed the prosecutorial tools necessary to move forward with this charge," Kilmartin said in a press release. "It was that need and the state's ability to move forward which helped secure a just resolution today."
According to court documents, Fox will agree not to use as a defense the fact that the alleged bribe is beyond its statute of limitations.
Fox was first elected to office in 1992. In 2010, he was elected speaker of the House. He was the first openly gay house speaker in the country.
Gordon Fox to plead guilty to bribery, campaign fund misappropriation

,