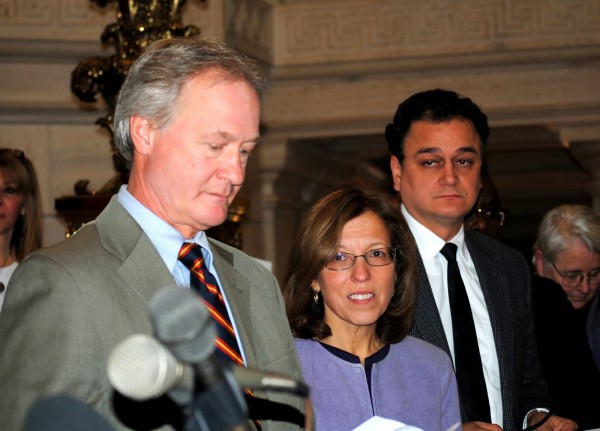 Governor Lincoln Chafee is opposed to a constitutional convention, he told me today, because delegate districts "mirror" legislative House districts. This, he said, gives House leadership too much influence in the process.
"When I served on '85-'86 convention, it was run by the speaker," Chafee said in a phone interview today. His first elected office was as a delegate to the last concon 30 years ago.
"The trouble is that the delegates' districts mirror House (district) boundaries," he explained. "They just have a whole apparatus behind them. They have people to call in every district, that they call every two years. Sure you can beat the machine, but it's hard."
During the '85-86 concon, Chafee said he saw firsthand how House leadership exerted power during the convention. Rep. Matt Smith, of Providence, was speaker at the time.
"It left me wide-eyed," Chafee said. "We would have a long discussion, looking at what other states did, and after all that input one of the speaker's loyal votes say Madame Chair, I move the question, and it would get voted down."
He also said a concon in today's political atmosphere could be too easily influenced by outside spending. "A new phenomenon since I served is all the money that comes on these issues."
Chafee said during the '85-86 convention, he was pushing for the same issues during the '85-86 concon that he thinks still needs to be reformed about Rhode Island's governmental structure: executive powers. That year, he helped implement 4 year terms for governor, though the legislature also won four year terms through the convention, he said. But they didn't manage to pass a line item veto, something that he feels is still a critical reform for Rhode Island.
"The spotlight and the heat are on the executive, meanwhile the executive branch doesn't have any power," he said. "The speaker and the Senate president can fly under the radar. If all the focus is on the executive, give them some power."
Chafee said such unbalanced powers between the executive and legislative branches surely plays into the state's frequent turbulence. "If you want to know why Rhode Island lags the country in so many ways, look at our structure of government," he said.
When he fought for more executive powers at the '85-86 concon, he said his motives were more political. "It was mainly because Republicans could get elected governor," he said, noting that he was a GOP member at the time. He said Gov. Ed DiPrete gave him a $100 donation, and he spent about $1,000 campaigning as a delegate. "The minimum is you need something with your name on it to leave with people. It costs $300 to print a palm card."
The governor acknowledged previously supporting the idea of another constitutional convention. "I might have said I was in favor of it but not until we change the way we elect delegates."
If there were to be one, he said he would push for a line item veto, as well as a unicameral legislature, which he said could work efficiently in a state of Rhode Island's size. He said he wouldn't likely campaign to be a delegate. "Been there, done that," he told me.