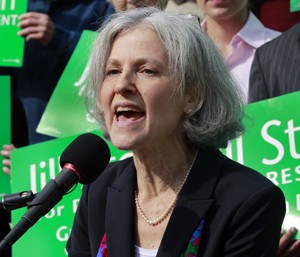 In the most exciting news, our very dynamic Green presidential candidate, Jill Stein, will be in Rhode Island today and wants to meet you personally, to talk about the "Green New Deal," and hear your views on solutions for America. You may have heard Jill's incredible interview on National Public Radio, or seen reports of her recent arrest at a housing foreclosure protest in Philadelphia. Wouldn't you like to meet her personally? On Saturday, August 18, you can!
Of course, Green politics aren't only about elections. Unprecedented heat waves, rising awareness of global warming, other ecological catastrophes, economic crisis, democratic breakdowns, and incessant war, prove that we need an active, effective Green Party more than ever. Here in Rhode Island, we are:
• Organizing an exciting, inspirational "Rally for Jobs, Peace, and Planet" on Saturday, August 18.
• Collecting thousands of signatures, to place Green presidential candidate Jill Stein on the ballot.
• Hosting "Make a Splash with Jill Stein" at North Scarborough State Beach on Sunday, August 19.
We hope you're as inspired as we are, by these exciting new developments. Do you want to be part of this movement for genuine, progressive change? If so, here are three simple things you can do:
• We invite you to a Green statewide gathering, at 11:00 a.m. on Saturday, August 18, to meet Jill Stein in person, hear from local candidates, approve Green Party endorsements, and plan for the future. We're gathering in Providence at the Unitarian parish house at One Benevolent Street, near the corner of Benefit Street. Won't you join us? Contact VoteGreen2012@rigreens.org to RSVP, and for more information.
• Later the same day, our Rally for Jobs, Peace, and Planet will introduce Jill Stein to Rhode Island voters, and we invite you to join us! Come show your support for the Green New Deal, and hear speakers from other progressive groups including Occupy Providence and the Rhode Island Black PAC. We'll rally in downtown Providence at 3:00 p.m., at the Roger Williams National Memorial, 282 North Main Street. For more info, visit http://www.greens.org/ri/jpp_rally.html or on Facebook, visit the rally invitation page.
• Finally, visit our website at www.rigreens.org, to volunteer or to make a secure donation. At this site you can learn all about the Green Party, our platform, and Green parties around the world.
With your help, and many other Rhode Islanders, this year can be a Green milestone for the Ocean State!
If we don't do it, and do it now—who will, and when?
Jill Stein, Green Party Candidate for President, Comes to RI

,