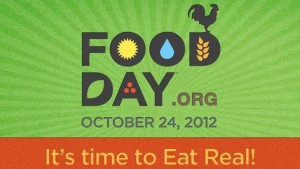 If there was any relationship between what really matters in life and what stuff costs, farming would be far be the most lucrative industry to be in. But of course no such relationship exists between how much we need a commodity and how much we're willing to pay for it. Farmers, by extension, end up working harder for less money than probably and other profession.
Today being National Food Day, our farmers deserve a thank you … all us non-hunters, gatherers or growers out there who enjoy three square meals a day, we do so because someone somewhere is still willing to work the land.
Unfortunately, that probably means underpaid migrant laborers working in a giant field of genetically modified corn or soybeans owned by a Midwestern land baron who probably can't even start a tractor. But we've got no shortage of sustainable farmers producing food for people in their community right here in Rhode Island. In fact, congressional candidate Abel Collins is one of them! He grows food with his family on the same patch of land in Matunuck that he grew up on.
Locally-grown/raised food is the most vibrant and promising sector of the food economy, and Rhode Island is already doing a great job of tapping into this as an area for future growth. I think we should double down on our agrarian efforts – it'll benefit restaurants, farmers, real estate and tourism.
In California, a ballot initiative to label genetically modified foods would give an economic edge to organic producers if it passed. So it adds consumer information to food packaging, promotes healthier practices AND helps the local economy. Sounds good to me!
Here's UC Berkeley journalism professor and localvore expert Michael Pollan talking about it on Democracy Now! today:
For more on how local food can help revive an struggling economy, check out the book "The Town That Food Saved." It's about a hard-scrabble town in very rural northeastern Vermont that successfully rebuilt its economy around local food. It's also where I had one of my first jobs in journalism and my very first job as a farm hand!