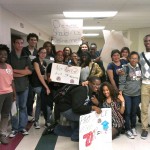 Hector Perea, a member of the Providence Student Union, takes issue with being called a sideshow by Eva Mancuso. Here's what he wrote in an email today:
My name is Héctor Perea, and I am a proud member of the Providence Student Union.

As you know, the Providence Student Union is a group where students like me can work together to make sure we have a fair say in our education. But we learned this past week that some people still don't understand the importance of student voice.

Last Monday the Rhode Island Board of Education voted 6-5 against a proposal to have open, public hearings to allow the community to finally weigh in on the use of a high-stakes test as an obstacle to graduation. My friend and fellow PSUer Cauldierre McKay summed up the unfortunate situation in this blog post – check it out to hear how the Board opposes allowing students (not to mention parents, teachers, and the community) to fully participate in an open and transparent public debate of this crucial issue.

Even more disappointing, however, was what happened afterwards, when Board Chairwoman Mancuso dismissively announced that she's "not going to get involved with sideshows with 16-year-olds" like me. As I told the Providence Journal, "The future of Rhode Island students should not be seen as a sideshow by the very people in charge of our education."

Then, a Saturday opinion piece by a conservative commentator once again said it was time for students to sit down and shut up. The piece even personally insulted me for speaking out on this issue, saying, "Perea is obviously struggling with the reading comprehension portion of the NECAP exam." This is especially ignorant because I actually scored the highest possible score on my NECAP reading exam. But I am more than a test score, and so are my friends who are being hurt by this policy.

The attacks on my character aren't important – I can take it. What does matter is that some adults feel they can shut down the voices of students like me, just because we are young or because they don't like what we have to say. I think we should be celebrating student voice, not belittling it.

Fortunately, we aren't on our own; we are so proud of the outpouring of support we've had here in Rhode Island and across the country.

Student voice is always stronger when it has the support of people like you. If you agree that students deserve a voice in their own education, please take a second to forward this email to 5 people who may not have heard of Providence Student Union's mission to give students a fair say.
Hector Perea says he's no sideshow

,