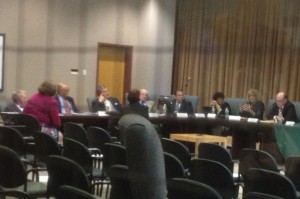 Eva Mancuso's secrecy sideshow continues as the ACLU says the Board of education has again violated the state open meeting law.
"This latest lawsuit, an expansion of one filed in July, challenges the Board's debate and vote in secret last week to reject a petition by seventeen organizations for a public hearing on repealing the "high stakes testing" graduation requirement," according to an ACLU press release sent today. "…the secret discussion violated the Open Meetings Act, and asks the court to declare the vote null and void, impose a $5,000 fine against the Board for willfully violating the law, and require the Board to consider the petition on its merits."
In the first open meetings lawsuit the ACLU brought against the Board of Education, a judge prevented the Board from discussing the ACLU's request to revisit the issue in public. The Board responded by discussing the merits of the issue itself in private and determined it deserved no extra public debate.
According to the press release:
The Board finally placed the petition on its September 9th meeting agenda. Before getting to that item, however, the Board went into closed session, purportedly to discuss the ACLU's underlying APA lawsuit. Immediately upon reconvening into open session, however, Mancuso announced that the Board had not only discussed the lawsuit, but had also discussed the petition itself in its closed session and had voted, 6-5, to reject the petition.
ACLU: Board of Ed. violates open meeting law again

,