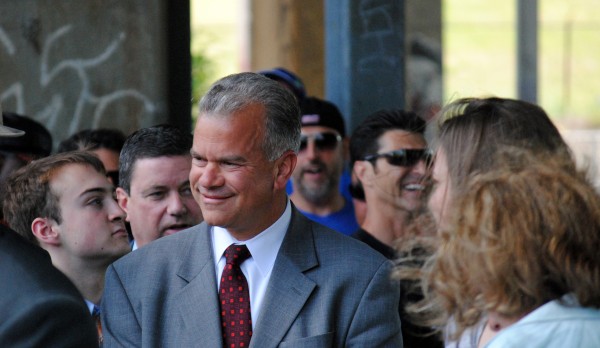 The budget passed by the House Finance Committee last night, and slated to be vetted by the full chamber next Wednesday, contains some wins and some losses for the progressive left.
The budget bill contains some money to restore low-cost bus fare for indigent people – a social service that RIPTA cut earlier this year. The RIPTA Riders Alliance declined comment until more information is available. House Speaker Nick Mattiello told RI Future the funding for this program is temporary and said larger changes with RIPTA are afoot.
The proposed budget also includes new money to pay nursing home caregivers and those who works with the developmentally disabled. The investment would help raise wages for underpaid caregivers, many of whom work full time and still live in poverty. SEIU officials hailed the move as a step toward a $15 an hour minimum wage for front line caregivers.
It also preserves Governor Gina Raimondo's increase to the Earned Income Tax Credit, and increased the investment in housing for the homeless proposed by Raimondo.
"We find it encouraging that the House Finance Committee showed their commitment and concern for Rhode Islanders experiencing housing insecurity by supporting the Governor's budget proposal for affordable housing production and adding an additional $10 million for urban revitalization and blight remediation for a total $50 million Housing Opportunity Bond," said Jim Ryczek, executive director of the RI Coalition for the Homeless. "We appreciate that the House Finance Committee ensured that this year's budget invests in the long-term solutions to addressing homelessness and the lack of affordable housing in our state."
But the House budget left out a proposed increase to the minimum wage that Raimondo included in her budget proposal. The current minimum wage in Rhode Island is $9.60 and Raimondo's budget proposal would have raised it to $10.10. While the minimum wage does not have a fiscal effect on the budget, it is customary in Rhode Island to include policy changes in the state budget.
The House budget also nixed Raimondo's proposal to increase investment in the school construction bond money. Many urban school buildings in Rhode Island are in dire need of repair.
It reduced Raimondo's proposed fee on medical marijuana plants from $150 to $25. While the House measure exempts low income people from the fee, it still requires a new state tag for each plant – a move opposed by independent growers of medical marijuana.
While medical marijuana patients will pay more, beach goers will pay less under the proposed House budget. According to a news release from the House of Representatives, "Just in time for beach season, the Finance Committee slashed parking fees at state beaches — mostly in half — to better enable Rhode Islanders and visitors to enjoy one of the state's greatest treasures. The cuts, effective July 1, eliminate hikes made in 2012, and apply to all types of passes: single-day weekend and weekday as well as season passes for residents, nonresidents and senior citizens. (Admission to state beaches themselves is free.)"
Charter school opponents should be even more pleased with the House budget proposal than with Raimondo's version. According to the news release, "The [finance] committee moderated the governor's proposal somewhat, allowing districts to reduce payments by either 7 percent of the per-pupil tuition cost or the average difference between per-pupil unique costs of the sending districts and those of the charter schools, whichever is greater. The committee also provided some temporary relief for districts with particularly high concentrations of students attending charter or vocational schools."
And the House budget seems to make it easier for Rhode Islanders to generate more renewable energy. The proposal "expanded the state's net metering program to allow "virtual" or off-site net metering by all customers, opening up access to renewable energy generation to more Rhode Islanders. Net metering is a practice that allows those who install renewable energy systems such as solar panels to connect them to the electric grid and receive credit on their bill for any excess energy they generate," according to the House news release.
But a reader sent this comment: "The budget article 18 expands net metering, but it has a completely silly cap on it (major concession to Grid), and messes up the rates (another major concession). It will serve as a disincentive to net metering, not an incentive. The PUC is in the middle of considering the right net metering rate, and this is sort of like sticking a monkeywrench into their machinery. This is in no way a win, except superficially."
The House is expected to vote on the budget bill next Wednesday.
House budget bill contains wins, losses for progressive left

,