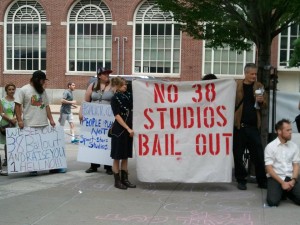 Part of the revised FY2014 budget passed by the House Finance committee last night includes the first payment ($2.5M) to cover the 38 Studios' default. This payment will not actually be made until May, 2014.
However, future payments are not guaranteed, so quite possibly this might be the last payment made by Rhode Island. Perhaps the Assembly could even de-appropriate the May, 2014 payment earlier in next year's session.
The proposed budget also includes $50K for a study of the consequences of non-repayment. This is both wise and affordable.
While many will lament Rhode Island paying anything, on the bright side  making the payment and conducting an in-depth study gives everyone a chance to think long and hard about what is best to do, and not to make a hasty decision. The committee's actions should also help to assuage Moodys a bit; we'll find out soon.