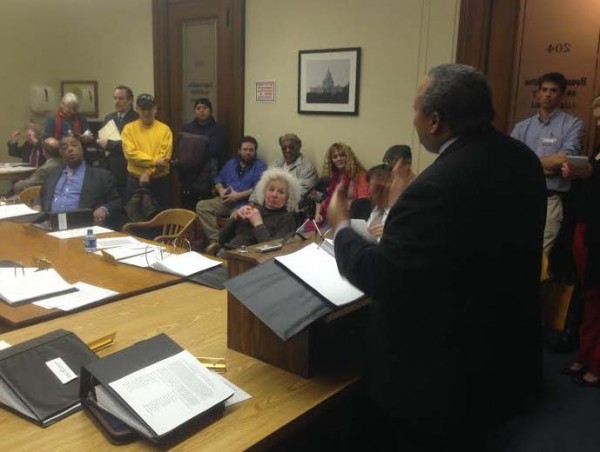 Even the House sponsor of Sen. Lou Raptakis' bill that would make Black Lives Matter highway protests a felony punishable by at least a year in jail distanced himself from the overly harsh penalty during and after a House Judiciary Committee hearing on Wednesday.
"Is it a felony? I will tell you, no," said Rep. Ray Hull, a Black police officer from Providence, sponsor of the bill that would make highway protests a felony. "Absolutely not." Hull told me this after enduring pointed questioning in the public hearing from Rep. Joe Almeida, also a Black man from Providence.
"I don't know what the percentage rate is, but a good portion of the people of color are going to be walking across that highway," Almeida said to Hull. "And I can help them with a misdemeanor. My hands are tied with a felony."
Hull seemed to tell Almeida he would rescind the bill. Steve Ahlquist has video of the exchange:
Hull and Raptakis sponsored versions of the bill that would make the highway protests a felony. Rep. Dennis Canario sponsored a similar bill that would make the protests a misdemeanor. You can read about their differences here.
Nearly every speaker systematically denounced the bills. Even the lone law enforcement lobbyist in support copped to it being overly broad. Most speakers said a felony is far too harsh a penalty for such an offense. Many said creating a new class of crime to target a nonviolent protest that is already illegal is unnecessary and/or unjust.
Former Republican congressional candidate Stan Tran likened the legislation to something Iran or China would do – and couched his comment by reminding the committee that his parents had emigrated from Vietnam. Steve Brown, executive director of the ACLU, said the felony version would implement a stiffer penalty than drunk driving – which, obviously, can also effectuate a traffic jam.
Fred Ordonez, executive director of DARE, dismissed the idea that the potential for emergency vehicle delay warrants a stiff penalty pointing out that ambulances are delayed by traffic issues all the time caused by celebrations, sporting events and unforeseen accidents. He wondered if it was the nature of the message rather than the nature of the protest that inspired legislators to take action.
We'll have more video from this hearing later today.
House sponsor Hull says Raptakis bill is too harsh

,