Richard Cosentino died in the custody of Providence police on Sunday.  The way the police describe his death leaves a lot of doubt.  Even from the police's story, which is pretty much the only version we have, it appears they treated him too harshly, and he didn't need to die.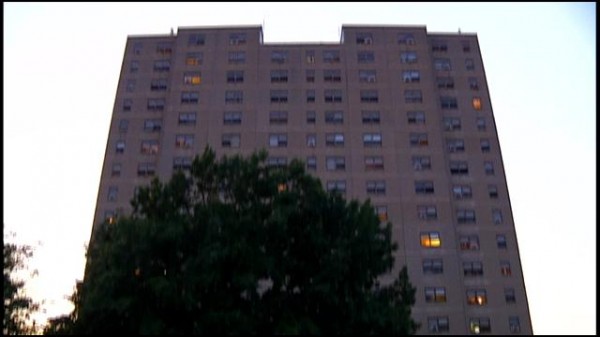 Like many of those who have died unnecessarily at the hands of police, he suffered from mental illness.  But when he came to the police's attention on Sunday morning, he had committed no crime, nor was he acting strangely.  He was just dealing with a problem that plagued all the residents of his apartment building: an elevator in the building that kept breaking down.  In the wee hours of Sunday morning, the elevator in his building had gotten stuck between floors again, with him inside it.  He tried to attract attention the same way a lot of people would, loudly requesting help.  Another resident heard him and called 911. That brought in firefighters and police.  Soon after the firefighters got him out of the elevator, Richard Cosentino was arrested and put in a police car where he died.
As often happens in these dubious deaths in police custody, police are putting out negative information about the dead person.  They say that Richard Cosentino had a criminal record, having been arrested in 2011 for larceny and tampering with a vehicle.  He pleaded no contest to the tampering charge, and we don't have more details about what exactly he was accused of doing in that case.  Was he a danger to others?  Was he another of the mentally ill people, like Darius McCollum and others, who are tagged with criminal records even though they didn't mean any harm?  It's significant that his neighbors use the word "nice" repeatedly in speaking of him.  One neighbor described Richard Cosentino as "A nice guy. He didn't bother nobody. He'd sit out and talk to himself sometimes."
I know the police see him as a criminal.  And I can understand how it might have attracted a suspicious police response in the past when he'd go outside at night, talk to himself, and so on.  But even if his relationship with the police in the past wasn't the best, that doesn't mean we should dismiss him as a wrongdoer.  Let's look at why he was arrested.
Police say that they responded to Carroll Towers apartment complex at 243 Smith St., following a 911 call at 4am Sunday from a resident there about another resident who was "causing a commotion in an elevator".  I wish Cosentino's calls for help hadn't been interpreted that way: "causing a commotion in an elevator." In any case, firefighters and police went to the building after Cosentino's neighbor called 911.  The firefighters got him out of the elevator after turning off the electric power.  His interaction with the authorities didn't go well afterwards. According to Providence Police's Major Thomas Verdi and Colonel Hugh Clements, Cosentino appeared "agitated" and was "highly intoxicated" as soon as the elevator doors were opened.  That's how they perceived this person who had just been through the traumatic experience of being stuck in an elevator in the middle of the night.  Look, I know he had some mental illness, and I'm sure he did appear agitated after being stuck in the elevator, but none of that is his fault.  With better training, the authorities might not have jumped to perceiving him in that way when they found him inside the elevator.
The police also say that Cosentino refused to comply with them and with firefighters.  If that's what happened, I don't think he's really to blame for that given what had just happened to him.  I don't believe they should have arrested him over that.  The compassionate thing would have been just to let him go, since he had clearly just been the victim and wasn't doing any harm. Too often that's not how police treat the mentally ill or others.
The other side of this is how Cosentino perceived the authorities.  To judge by the police's description, he wasn't quick to see them as friendly — in fact the police hadn't been friendly to him in the past, and the police's story of his death makes it sound as if they didn't even start out friendly to him this time.  It's quite possible that, as police said, he refused to comply with something they told him to do.  And even if he was correct in deciding that the authorities on the scene weren't friendly to him, his mental illness may have led him to misinterpret things in a worse light.  For instance, given the negative interactions he'd had with authorities in the past, he may not have seen them as his rescuers.  After the traumatic experience of being stuck in the elevator in the wee hours, and then realizing that he would soon be dealing with police who had treated him negatively before and who weren't particularly friendly to him now, I even wonder if he mistakenly perceived the authorities as being more the cause of the elevator problem than the solution.
Fear is important here.  Even those who don't particularly suffer from mental illness often feel fearful when police approach and don't feel that their own innocence will necessarily protect them from police.  The situation where firefighters are rescuing you from a stuck elevator, with police waiting among them, is one which many people would find challenging and scary to deal with, whether one has a mental illness or not.  Since this is something that plenty of innocent people would feel, it's worth thinking about how typical police attitudes and behaviors contribute to it.  Is it a good thing when we have a police force behaving in ways that inspire so much fear in the innocent?  I can certainly believe that Richard Cosentino was "agitated" as the police say, like many people with or without mental illness would be in those circumstances.  And maybe he did fail to comply with the police in that kind of situation that isn't easy to deal with.  But that still doesn't mean he should end up arrested.  And in particular, he didn't have to die.
We don't have an official cause of death for Cosentino yet.  According to police, Cosentino went into cardiac arrest soon after police took him into custody.  Cardiac arrest isn't a heart attack — instead it just means that his heart stopped beating, and it can be caused by a number of things, including the violence of an arrest.  People have gone into cardiac arrest after being Tased by police, or after being hit in the chest.  Eric Garner died when he went into cardiac arrest after New York police placed him in a kind of neck hold.  So it's worth considering very seriously the possiblity that Richard Cosentino may have died as a result of whatever kinds of physical force were used in arresting him.
Was Cosentino violent with police or firefighters?  The police haven't been too clear about that.  They say he was "combative." But the way police use the word "combative", it doesn't necessarily show there was any violence (for example, here, here, here and here). We've already heard that Cosentino wasn't complying, and it's not clear whether the description of him as "combative" amounted to any more than that.  There is also a claim that Cosentino "assaulted" the fire chief who was on the scene, but that claim hasn't been substantiated; WPRI News says that their sources say they're not sure the firefighter was ever actually hit.  So I don't know what to think when the police say that Cosentino "began fighting."  I've seen many cases in Rhode Island and elsewhere where officers use force against someone who wasn't violent, and then the police turn around and say that the victim began fighting. This has even happened to innocent people who are just trying to walk away from police, like Kollin Truss in Baltimore who was beaten and wrongly accused of being violent after trying to walk away from an officer.  Sometimes you just have to let the innocent person go.
Richard Cosentino was forcibly taken into custody inside his own Providence apartment complex.  The police claim that they didn't hit him.  They do, however, admit using physical force against him: they say they decided they had to "physically place him into handcuffs".  But although they occasionally claim that Cosentino was the one who began fighting, I don't know if that's really true.  I take very seriously the possibility that he wasn't violent, but police perceived him as "combative", "agitated" and noncompliant, and decided to forcibly arrest him. There is some video of what happened, but — significantly — the video hasn't been made public.
Once he was arrested and taken into a police car, Cosentino asked for medical treatment.  Police admit this, and again it shows that they used some force on him.  It might have been better if the police made his medical treatment more of a priority.  Like Eric Garner in Brooklyn, who said "I can't breathe" and went into cardiac arrest after being placed in a neck hold, Richard Cosentino in Providence went silent and went into cardiac arrest after asking for medical treatment.  He might have lived if he had been taken to a hospital immediately.  Police say that firefighters gave Cosentino at least a little medical treatment on the scene.  But he really needed to be in the hospital.
After he asked for medical help — his last words, perhaps — he seems to have remained in the police car for some time.  It's worth looking at the timeline. This situation started with Cosentino noisily calling help from inside the elevator, followed by a 911 call which according to most news stories occurred at 4am Sunday.  A few of the media stories on Cosentino's death say that the "rescue call" was at 4:30am Sunday, not 4am; maybe 4am was when the 911 call was placed and the big incident with police and firefighters on scene happened around 4:30.  In any case, Cosentino and the authorities got into their confrontation, and he was arrested and placed in the police car.  He asked for medical help, and it's clear it didn't take long for him to ask, because the police say that he went silent shortly after being arrested.  So very soon after being arrested, he said he needed medical help.  A little after 5am, he was pronounced dead at Rhode Island Hospital.  The death itself occurred in police custody, so it seems he died in the police car before he even got to the hospital.  Would he still be alive if he had gotten to the hospital at 4:45 or earlier, instead of staying in the police car after "he went silent"?
As one of his neighbors said, "Cosentino had mental health issues but wouldn't hurt anyone" and "was probably distraught from being stuck in the elevator. The neighbor said it may have helped if Cosentino was put into an ambulance instead of a police car."  There is no reason to think Cosentino was armed or dangerous.
Media coverage has emphasized that Richard Cosentino's death is under investigation by the Providence police department itself, as well as by the state police and Attorney General Peter Kilmartin (a former police officer who is police-friendly and has not been good at supporting police accountability).  So there are several different investigations, all with police in charge.  But investigations alone are not enough.  The neighbors who knew Cosentino are shocked.  If officers used unnecessary force here, they need to face consequences that are more serious than a full-pay retirement.
The public needs to see the video.  And it's long past time for better laws.  Police need better training, not just in dealing with the mentally ill, but in dealing with all who are vulnerable and all who are likely to be mistakenly perceived as dangerous.  There should be mental health workers on every police shift.  Especially when dealing with elderly, mentally ill, or disabled people, police should try to de-escalate and avoid arrest, seeking peace instead.  Handcuffing people in these groups should be a last resort (and should often be done with handcuffs in front of the body, not behind). The Providence Community Safety Act needs to be passed, and the Law Enforcement Officers' Bill of Rights needs to be repealed.  Accepting a tiny bit more risk to law enforcement is worth it if it prevents unnecessary deaths like Richard Cosentino's.
How Richard Cosentino died in Providence police custody

,