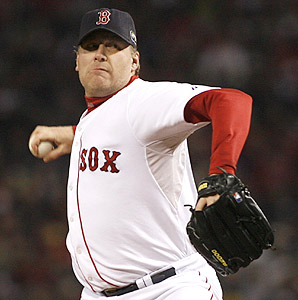 Still think sports and politics exist only in exclusive hemispheres?
On Thursday, June 7, the Smith Street entrance to the Rhode Island Statehouse was dominated by a two-story Green Monster-green banner congratulating the Boston Red Sox on the 100th anniversary of Fenway Park.
Inside, state officials were struggling to deal with the aftermath of that day's bankruptcy filing of 38 Studios, the video game company that Curt Schilling, whose hero status in New England seemed enshrined in granite after pitching the Red Sox to one big victory after another en route to two world championships, brought to Providence…thanks to a $75 million loan guarantee offered in 2010 by the state Economic Development Corporation and supported by the vast majority of state officials at the time.
Would an entrepreneur who had not helped end the Red Sox' 86-year world championship drought have been offered such a deal? Would an African-American athlete (other than perhaps Magic Johnson) have been the recipient of such largesse at R.I. taxpayers' expense?
Sports and politics do bleed, clash, and intersect not only on the large stages of society, but also on smaller ones such as the local pro and college teams you follow, and even youth sports, as a quartet of journalists and activists made clear at Saturday's Netroots Nation 12 forum "How Sports Shapes Our Politics and Why it Matters," NN's first sports-related panel
While the sports world may sometimes seem to be another arm of establishment power (athletes and coaches preaching God, country and family, Schilling supporting conservative causes and NBA legend/Nike pitchman Michael Jordan's famous reason for steering clear of politics, "Republicans buy sneakers, too"), there is something else bubbling beneath the surface, said Dave Zirin, Sirius XM host, author and contributor to ESPN's "Outside the Lines," who boasts of being once called "state-run media scum" by Rush Limbaugh.
The sports world has given birth to radicals in the past, he said, most notably Muhammad Ali, whose resistance to the draft made him an international celebrity well beyond that usually accorded a world heavyweight champion. While many athletic superstars have arrived since, notably Jordan, Tiger Woods and LeBron James, none have pursued influence beyond world championships and multimillion-dollar endorsement deals.
"It says something about how successful the people who run sports have been at disassociating sports from radical politics," Zirin said.
Which is not to say progressive politics and pro sports don't co-exist. This year, he said, the NBA has seen players respond to the Trayvon Martin murder (including Carmelo Anthony's "I am Trayvon Martin" Facebook photo) and the Phoenix Suns' protest of Arizona's SB 1070 immigration crackdown by wearing their "Los Suns" jerseys for home games.
Then there is the "It Gets Better" campaign, born of the rash of suicides among LGBT teens, managed by Eden James, campaign director for Change.org, a website promoting online petitions that has become a go-to source for fans ranging from those wanting coaches fired to seeking apologies from players who have made sexist, homophobic or racist statements.
The series of videos designed to promote acceptance of the LGBT community  began last year with a San Francisco Giants fan who wanted to see his team take the lead on the cause. With the support of 6,000 online signatures from Giants fans (and several mayoral candidates), the team produced a video with messages of support from several players and coaches.
"We asked members to start petitions to their own teams. It's what we call a wildfire petition, taking a national issue to local targets," James said.
Sam Maden, a 12-year-old Red Sox fan from Nashua, N.H., whose gay uncle Chris had recently died, saw the video and started a petition to the Red Sox to create one of their own, said James.
"The Red Sox weren't originally interested in a video, but after Sam got national coverage, they realized it might be a PR issue. It became a tipping point," said James, noting that a number of other teams have joined the Red Sox and Giants in producing "It Gets Better" videos (but the New York Yankees don't have one yet).
Even though Title IX, which brought about the explosion of growth in girls' and women's sports, is celebrating its 40th anniversary this year, gender equality, identification and sexuality issues in sports still haven't gone away, said Diane Williams, a teacher and coach at Williston Northampton School in Massachusetts, a former high school and college athlete, and current member of the Pioneer Valley Roller Derby team.
"I've heard about young girls not playing sports because they feared being perceived as gay," she said.
The "lesbian question" has long hovered over the promotion and marketing of the most successful women's pro sports league in the country, the WNBA. For every lesbian player like Sheryl Swoopes who has come out, there are many whose sexual identity remains under speculation.
"The WNBA has worked to portray a particular identity for its athletes," William said. "If you were gay, they'd say, 'That's great, but please don't ruin it for us.' "
Dr. Eddie Moore Jr., director of diversity at Brooklyn Friends School, wrote his dissertation on a study of African-American football players who attended small colleges in theMidwest, who found many people whose encounters with their race came only via television. He said he was struck by the response of one player in particular: "They believe the myths and stereotypes about you."
Displaying Forbes' list of the top 10 most hated athletes (with only two whites, the NBA's Kris Humphries and NASCAR's Kurt Busch) and statistics that 97 percent of the nation's newspaper sports editors are white (94 percent men), Moore said much of what readers and viewers learn about athletes "is told from a white male supremacist viewpoint."
When athletes' troubles make the media, he said, "The frame isn't 'white athlete,' it's 'nigger.' Is this frame possible influencing the way in which you do your work?
Sports talk radio is not always distinguishable in viewpoint from news talk radio, admitted Zirin: "It's a wretched sewer designed to police athletes who speak out."
But those who sometimes find sports talk shows like WEEI's morning "Dennis & Callahan" indistinguishable from conservative talk radio perhaps shouldn't push the next button so soon, Zirin advises.
"It's one of the few areas where people of all political stripes tune in. It's an interesting place to challenge ideas beyond the politically segregated world we live in."
The forum was moderated by Charles Modiano, sports media critic and editor of POPSpot.com.