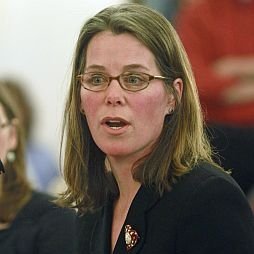 A recent Gallup poll revealed that Rhode Island has the lowest uninsured rate in the country, at 2.7 percent, as well as one of five states that saw its uninsured rate decline by 10 points or more. But, how did that happen? Anya Wallack, director of HealthSourceRI, was able to provide some answers.
"You come to HealthSource, and right there, you can very easily sign up for coverage regardless of your income," she said. "We've developed an infrastructure that's really designed for this unified approach."
Wallack explained Rhode Island decided to create its own exchange because it presented "significant advantages, in terms of local control and customer service." With a state based exchange, rather than a federal one, they could better tailor their services to the needs of Rhode Islanders.
HealthSourceRI uses what she called a "one door policy," meaning that customers could come in and not only apply for health insurance, but check to see if they were eligible for Medicaid and other benefits. This is where much of the exchange's success comes from, since this is a policy only a few states have adopted.
Wallack said that making customers jump through hoops only serves to make things more confusing, and they miss out on important information because of it. Right now, Wallack and her team are expanding their open door policy, and making it possible for customers to begin to apply for other assistance programs like TANF or SNAP.
"When we're done building our system, you'll be able to sign up for those with one stop shopping," she said.
Wallack added that there are a number of ways that customers can use this one stop shopping, that all services are provided online, over the phone, or in person. Face-to-face assistance is also provided right in the community health centers, so customers can sign up for insurance right in their hometown. HealthSourceRI also has enrollment events during the open enrollment period, which is from Nov. 1 to the end of January each year. During open enrollment, a customer can renew, reenroll, or sign up for coverage, or just change their plan. There are two other types of enrollments as well- special enrollment and Medicaid coverage. Special enrollment occurs when a customer's circumstances change throughout the year and they need to change their plan, and Medicaid coverage happens throughout the year to see if a customer is eligible for Medicaid.
"We try to find any avenue where we can come into contact with people who may be looking for coverage," Wallack said concerning their community accessibility.
This level of accessibility has worked for the exchange, proved not only by the Gallup poll but the hard numbers that HealthSource has collected so far for this year. In 2015, they have enrolled 32,554 individuals as of July 31. Most people who enrolled were age 55 and over, sitting at 29 percent. 53 percent of enrollees were female, while 47 percent were male. More than half of the enrollees – 59 percent – were eligible for financial assistance in the form of an advanced premium tax credit and cost-sharing reductions. These numbers show an upward trend from last year, with over 7,000 more enrollees. Small businesses are signing up through HealthSource as well, with 542 employers enrolled in 2015, compared to the 381 from 2014.
The Gallup poll found that states that set up their own exchange and expanded Medicaid saw the biggest drop in their uninsured rate, something that the Ocean State has been doing since day one. According to Wallack, as long as they continue with this, Rhode Island can serve as a model for other states and their healthcare exchanges, especially as HealthSourceRI moves forward. Within the next month, HealthSource will be releasing its own survey, which will give more accurate results than the Gallup one, because it will only look at Rhode Island. But, the national survey still shows a trend, and that Rhode Island is headed in the right direction.
"What I take from this, is that those policy decisions, as well as our decisions to take a coordinated approach, was successful for us," Wallack said.
HealthSource's next step is to find those last remaining uninsured individuals, and understand why they're uninsured, as well as work with employers to make sure that they are able to retain coverage. Now, their job is to help control healthcare cost growth, provide support for small business, and provide affordable choices for everyone, especially that last 2.7 percent.
How the smallest state got the smallest uninsured rate

,