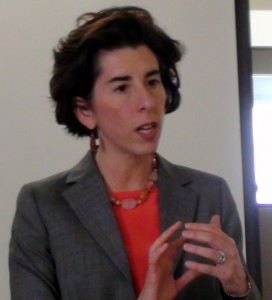 Gina Raimondo's recent policy proposal on infrastructure raises a lot of math questions, but here's one of the most glaring:  How is she going to pay for the $60 million she wants to spend each year on school construction?  She really doesn't say.
She tells us she'll simply find the money by "taking just half of a cent" out of the sales tax, but those dollars are already being spent on other things.  So here's a really basic question no one else is asking her:  What is she going to cut out of the general fund to pay for the $60 million in sales tax dollars she's redirecting?  And what impact would those cuts have on job creation?
Progressives have lots of great ideas for closing budgetary gaps.  In Rhode Island, our favorite idea is probably repealing the 2006 income tax cuts for the rich.  It's an easy solution, but conservatives don't like it.  So I'm very curious to see how Raimondo proposes to find $60 million.
Raimondo's campaign did not respond to a request for comment.
How will Raimondo pay for her $60 million cut?

,