Vice-chair and co-founder of Newtown Action Alliance Po Murray gave a moving speech at the State House yesterday about living in the aftermath of an unspeakable tragedy like that which occurred at Sandy Hook Elementary in Newtown, Connecticut on December 14, 2012. Murray spoke of the devastation wrought in under five minutes by a man wielding a "lethal killing machine, the AR-15." Twenty children and six educators died that day.
"Our hearts broke into a million pieces and our community was shattered," said Murray, "but many of us felt the need to move swiftly to take action to honor the lives lost."
Murray has lived in the Sandy Hook section of Newtown for over 14 years, in one of the safest neighborhood in Connecticut. The shooter, with a stock pile of weapons and ammunition, lived 50 yards from her home. Murray's four children all graduated from Sandy Hook Elementary School.
"I am not able to leave my neighborhood without driving past numerous homes of the families who have lost their children on December 14th," she said. "Our community is still reeling from the massacre. There has been a huge human and economic cost associated with moving the community forward."
Murray implored the legislature to pass new and effective gun control measures because, "if a mass shooting with a lethal machine with a high capacity magazine can happen in my town, it can happen anywhere."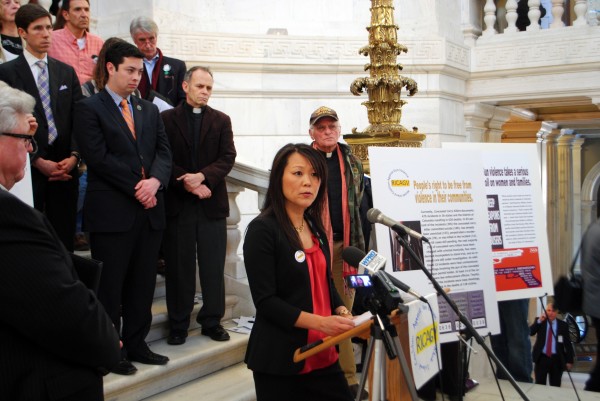 Newtown Action Alliance's Po Murray: It can happen anywhere

,