The Reverend Gene Dyszlewski, a prominent religious figure in the battle for marriage equality, welcomed the arrival of a "new conversation about gun violence" at the State House yesterday with the announcement of the formation of the Religious Coalition for a Violence-Free Rhode Island (RCVFRI).
This is a group of about 80 (and growing) religious leaders from a variety of religious perspectives who maintain "a core belief in the dignity of human life" and that gun violence is "an unequivocal violation of that human dignity."
RCVFRI is also a member of Rhode Island Coalition Against Gun Violence (RICAGV), with a mission to "invite all Rhode Islanders to engage in a serious and reasonable discussion about how to curb gun violence" and call upon "the legislature to enact reasonable, sensible gun control regulations and ask for support for evidence based violence disruption programs."
Reverend Gene picked the date for his announcement weeks ago, reserving the rotunda for the announcement of his religious coalition long before a date was set to hear testimony on fifteen gun related bills that brought large coalitions on both sides of the issue to the State House. While outside the State House over two hundred people representing groups opposed to sensible actions to curb gun violence rallied supporters through fear and paranoia, under the dome about half that number embraced common sense, optimism and a sense of a historic turn in the dialog on guns in the United States.
Reverend Gene introduced the other speakers during the half hour program, including RICAGV President Jerry Belair, Senator Josh Miller, Representative Linda Finn, the local director of Moms Demand Action, Nan Heroux, Co-chair and co-founder of Newtown Action Alliance Po Murray, and Teny Gross of the Institute for the Study and Practice of Nonviolence. I'll have more on these speakers in a later post.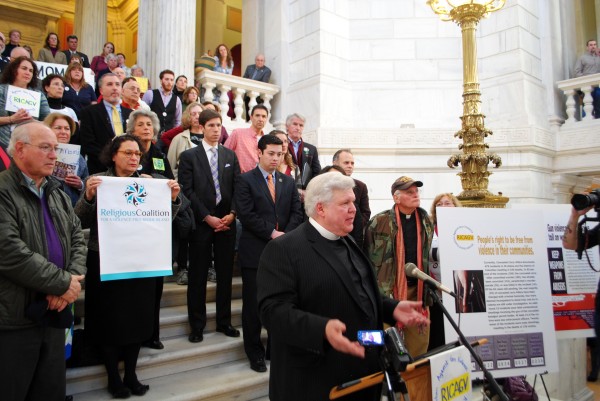 Rev. Gene announces Religious Coalition for a Violence-Free Rhode Island

,