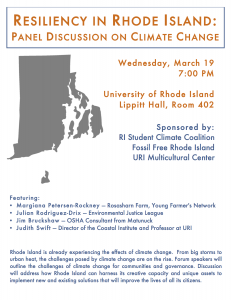 As part of Fossil Free Rhode Island's ongoing fossil fuel divestment campaigns, the organization is sponsoring a panel discussion on climate change organized by the Rhode Island Climate Coalition (RISCC).
WHAT: Resiliency In Rhode Island: a panel discussion on climate change
WHEN: March 19, 2014, 7pm
WHERE: Lippitt Hall, Room 402, URI Kingston, RI 02881
From rising seas to severe storms such as Hurricane Sandy and Winter Storm Nemo to record heat waves, floods, and droughts, the challenges posed by climate change are intensifying around the world, the US, and in Rhode Island with its 420 mile shoreline … while it lasts.
Rhode Island is already experiencing the effects. From big storms to urban heat, the challenges posed by climate change are on the rise.
Forum speakers will outline the challenges climate change poses for communities and governance. There will be a discussion about how Rhode Island can tap its creative capacity and unique assets to respond to climate change in a way that will improve the lives of all its citizens.
The event presents an exciting opportunity for the community to get involved in the conversation and in new climate initiatives.
Speakers at the Climate Forum will include:
Margiana Petersen-Rockney — Rosasharn Farm, Young Farmer's Network
Julian Rodriguez-Drix — Environmental Justice League
Jim Bruckshaw — OSHA Consultant from Matunuck
Judith Swift — URI Coastal Institute
ECO Youth organizers such as Abe Vargas, Kendra Monzon, and Juliana Rodriguez
In June of 2013, Fossil Free Rhode Island requested that the URI Foundation divest from fossil fuels. In a letter received today, this request was turned down. The URI Foundation expressed its commitment to honor the intent of its donors by investing responsibly, implying that divestment was at odds with this.
Clearly, whatever destroys Earth cannot possibly be a responsible investment. This obviously is a view shared by those alumni who told me in recent days that they plan to form an alternative fund in which deposits can be held until the URI decides to divest. This latest development will certainly be part of the panel discussion.
The event is sponsored by:
Rhode Island Student Climate Coalition, a statewide alliance of students and youth working for a clean, safe, and just future for all
Fossil Free Rhode Island, taking action for climate justice, urging public institutions to divest from fossil fuels as the only moral choice
URI Multicultural Center, dedicated to the development —by means of social justice, change and empowerment — of a campus united across culture, identity, and discipline.