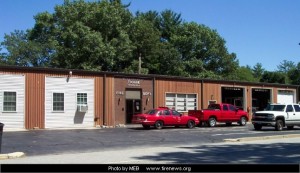 Central Coventry fire fighters aren't giving up on the residents they protect. On Friday, they filed a lawsuit with the state Supreme Court to keep the embattled fire district operational.
"We believe there is no need for liquidation," said Central Coventry union president David Gorman, adding that it would be dangerous and expensive for residents if the rural town's largest and busiest fire district is eliminated.
"There is still no plan in place to provide protection," Gorman said. "Everybody needs funding, no matter who answers the calls."
Liquidating the district, he said, will prove more expensive than keeping it operational. He expects taxpayers will be responsible for the $8 million in contract obligations they have agreed to, and the state pension board would require retirement obligations, between $6 and $9 million, would need to be funded too.
Gorman said he has tried to negotiate with the local fire district board, but they won't talk with him. "We believe we can make the budget numbers work but we haven't been given the opportunity to do that for the past two years. I gave them a dollar and they never asked for two, or a dollar ten. They won't talk to us. They want a new paradigm that doesn't include union fire fighters."
In a letter to fire district residents, The Central Coventry Citizens Taskforce for Fire Protection said fire commissioners did negotiate with the union. "Although the New Board tried to gets (sic) costs under control and save it, the level of concessions from the fire fighters union – where the bulk of the costs are – was simply insufficient."
Gorman said the budget crunch in the Central Coventry Fire District began with a clerical error on a commercial tax bill. The error happened in 2010 and wasn't remedied until an audit discovered one commercial property was not being billed, Gorman said. By then it had ballooned into $2.4 million deficit.
Rep. Patricia Morgan, a West Warwick Republican who represents a slice of Coventry, and anti-union activist Chuck Newton are leading a campaign to close the fire district. Gorman said the clerical error has been misrepresented as overspending. He said Morgan and Newton "hand-picked" anti-union residents to run for the fire district board and it is now "controlled" by the small government group that authored the above letter.
Newton, an East Greenwich resident, was instrumental in closing the fire district in that town. He was employed at the State House by the House GOP caucus but was fired for making a fake Facebook page about Rep. Scott Guthrie, who is a former North Kingstown fire fighter.
Gorman said both Newton and Morgan, neither of whom live in Coventry, are more concerned with busting the union than fixing the fire district. "It's really shameful what they have done to this community," he said.
Coventry fire fighters take anti-union effort to state Supreme Court

,