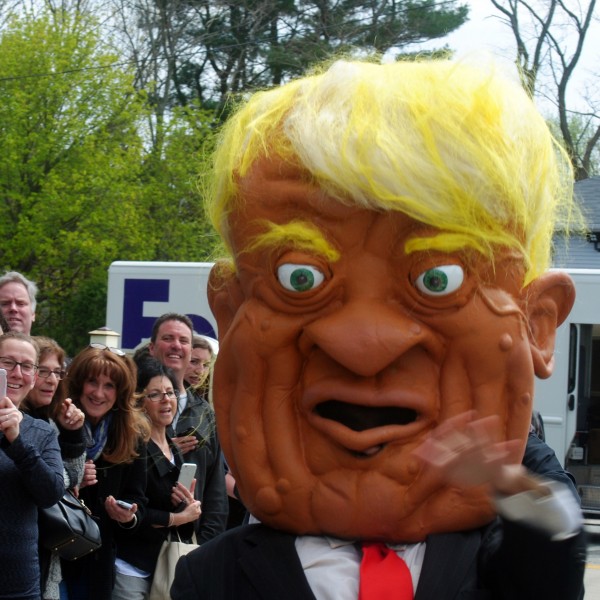 We can no longer distinguish Republican and Democratic parties with conservative and liberal labels. Too many Republicans proud of their conservative pedigree have distanced themselves from the party that Donald Trump now leads. Democrats now prefer the term progressive, but it's not obvious that all those who supported Bernie Sanders will embrace Hillary Clinton despite his endorsement. Bernie led a political revolution against the 1%; it's hard to see the former secretary of state, senator, first lady, and Wall Street lecturer in the 99%. But maybe our labels and the methods underlying them are the problem that needs address before we figure our vote and anticipate the post-convention campaigns.
When we reference ideologies, we can mix up political self-understanding with the analytical and critical accounting of communicative action. We ought to debate whether Secretary Clinton is really a progressive if she is part of the 1%; or if you prefer America's version of Kremlinology, we can wait to see whom she chooses as her vice-presidential candidate to decide whether the progressive or moderate label fits her best. [1] But to focus on Clinton's self-understanding and the ideological connotations of her policy and personnel choices is to do something similar to what the Republicans themselves do in their politics. By focusing on Hillary Rodham Clinton we miss how ideology works in the Time of Trump.
There is substantial scholarly work identifying the articulation of Trump in the world of ideology and power. A number of scholars of fascism have made a strong case for why the label fits his practice.[2] It's not just that his language can be vulgar and that he diminishes many in his oratory. The label is compelling because it serves to warn us of a fascist future America has so far avoided.
For some, however, this is not about an unrealized future, but revenge of the past. One of the world's leading scholars of race and the history of white people, Nell Painter, marks a steady history of violence against people of color and sometimes their white allies; she argues that Trump borrows from an ideology of American white supremacy to express resentment for a black president and all that accompanies Obama's leadership.[3] Rather than being the force for law and order, then, Trump's performance helps to stimulate the disorder that demands a strong white man to resolve.
Trump and his defenders can defend his implicit and explicit racist and fascist speech by declaring he stands opposed to political correctness, celebrating that he tells it like it is. They say he expresses the real frustrations of the American people.  But in that very declaration, this coterie declares their whiteness and superiority without ever saying, explicitly, that white supremacy is the route to make America great again.
Of course Trump may never declare that he is a fascist or white supremacist, but that is not how ideology works in these times. We live in a time where those who care about truth are eclipsed by those who know how to put on a show, where comedians communicate the truth better than journalists or academics.  Trump, while no comedian, is a showman, and knows how to turn any news into useful news. Melania Trump's presentation with plagiarism, Jeffery Isaac proposes, was
"a perfect representation of Trump and his campaign: all show and no substance, all mendacity and no truth, and all ego and no real concern for anyone else. Say what you want. Do what you want. Vilify others and then steal their words. Get caught and then try to shout down and bully those who notice. This is not an aberration. This is Trumpism."[4]
In this light, it would be insufficient to articulate Trump's communicative power by linking it only to ideologies of fascism and white supremacy.  His effect is realized through a celebrity culture that not only seeks salvation in the strong man, the superman, the Übermensch; it finds in the fantasy of beautiful blonde adult children and the ex-model wife an escapism that appeals to those who feel abandoned by policy wonks, free traders, movement activists, academics, and conventional politicians. [5] They can escape the world in which women and people of color threaten their imagined place and find themselves in the fantasy Trump embodies. These people, in their alienation from the world that exists, enjoy Trump.
Fantasy is different from the ideologies associated with conservatism, liberalism, or progressivism. It needs neither coherence nor evidence, for it is not designed to reflect or operate on reality. It is designed to constitute a reality that even its believers know is not real, but nonetheless has an effect that satisfies a desire that cannot be expressed openly in public.  And it's even better if that fantasy is somehow denied, for its proponents then can cry injustice and break the rules even more to prove, ultimately, the reality of that fantasy's power and of their desire. The Republican National Convention is not just about selecting a presidential candidate; it's the latest performance of a fantasy that derails the relevance of conventional policy and politics.
In order to compete in the fantasy world made in the time of Trump, The Democratic National Convention and ensuing campaign cannot only be an expression of experienced leadership, policy expertise, and progressive and inclusive values.  Most American citizens know that the system is in crisis, and desperately wish that the future could be more like the selfie Democrats post rather than what Republicans offer when they picture their interns.[6]  But as crises and conflicts accumulate, Americans could become afraid that an ideology that embraces them all will be destroyed by the violence of the few, feeding the fantasy that order demands the return of a real man to power even if they, themselves, are not white supremacists and fascists.
We have seen how this works across the world. Putin blazed the trail, constituting the fantasy of a Great Russia at risk of destruction, finding evidence of that threat in democracy's spread in Ukraine, and creating a war that demands even more authoritarian leadership at home. Erdogan has followed suit, finding the perfect opportunity in a bungled and possibly planted coup to impose a new order on Turkey, to impose the fantasy of a Turkey unbridled by expectations of western allies and cosmopolitan intellectuals.  Trump and his promoters take note and whip up desire by positing threats (immigrants, Muslims, crooked politicians) to an order that might only be fulfilled if a strong man leads. Those who embrace this fantasy find enjoyment not only in hating those threats, but finally being allowed to say it publicly.
Secretary Clinton and her allies may think they are running a convention and campaign against another politician, but they also need to recognize what it means to challenge a fantasy.  This 2016 election is not a contest of liberals and conservatives, Democrats and Republicans. It is about the communicative powers of fantasy and escapism vs. those of political experience, expertise and solidarity.  And if that is the contest, the showman will win.
In the Time of Trump, knowing how the world works is not more compelling than knowing how to declare that others are stupid. That's not my fantasy, of course; it is my nightmare. And perhaps that is the point around which Secretary Clinton might become president.
It's not about vision or policy, but it's about the fear of what Trump has already wrought, and what he might still bring were he to win. To work for the Democrats fulfills an alternative fantasy of salvation, except this time keeping America from descending to fascism and a full throated white supremacist order.
This electoral contest is shaped by the contest between those who resent what they believe has happened under Obama, and those who fear of what might be under Trump.
I don't know which will win.
[1] http://www.publicseminar.org/2016/02/clinton-vs-sanders-whos-the-real-progressive/#.V4-4AJMrLEY
[2] http://www.providencejournal.com/article/20151209/NEWS/151209270 http://www.huffingtonpost.com/entry/one-expert-says-yes-donald-trump-is-a-fascist-and_us_578d1a56e4b0d4229484d3e0
[3] https://www.facebook.com/historiansondonaldtrump/
[4] http://www.publicseminar.org/2016/07/why-melania-trumps-plagiarism-matters/
[5]   http://www.queries-feps.eu/Mag8_NEW.pdf
[6] https://mic.com/articles/149274/this-dem-intern-selfie-is-dramatically-different-from-paul-ryan-s?
Ideology in the Time of Trump

,