The chronicle of Cape Verdeans, who celebrated their Independence Day this month, in the Ocean State has proven to be one of the most impressive demographic stories, with local African American leaders like scholar Bela Teixeira, labor organizer Mike Araujo, and NAACP President Jim Vincent all tracing roots to the island nation. Now a documentary that recently was filming interviews in Rhode Island, THE HEART OF AMILCAR CABRAL, is set to narrate the story of their independence struggle and one of their founding fathers.
"It is really a complete pleasure to support your film project because it is living history really," says Dr. Richard Lobban, Emeritus Professor of Anthropology at Rhode Island College, who was a reporter at the time and wrote stories from the field. From 1961 until 1974, Amilcar Cabral and his African Party for the Independence of Guinea and Cape Verde/Partido Africano da Independência da Guiné e Cabo Verde (PAIGC) engaged in an intense war against the Portuguese who had colonized Africa. Though Cabral himself was not a Communist, the conflict became one of the hot fronts of the Cold War.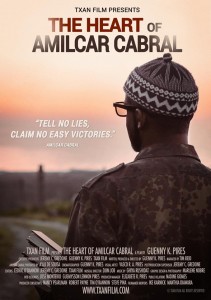 "Cape Verdeans have always seen themselves, because they are an immigrant Afro-American population, as not having an attachment to the African American experience, or at least the same attachment to the African American experience," Araujo told me several months ago. "The Cape Verdeans in Providence do one job in Providence. They were all longshoremen. The ILA [International Longshoremen's Association] 1328 is an entirely Cape Verdean union. It was founded by Cape Verdeans. It's officers are still Cape Verdean-majority. It's also a very protective union. They were also able to keep the docks honest, which is the problem that they had in Boston and in New York. And they were able to keep it open to Cape Verdeans, most importantly!"
"Cape Verdeans were relatively politically sophisticated to a degree more than Azoreans. And also because of the amount of shipping that passed through there they were also more cosmopolitan," he said. "They identify as an international people."
This is a point that is vital to understand because the tensions on the macro level that played out in Cape Verde were staged on the micro level in Rhode Island. For example, the contradictions of race and racism impacted Cape Verdean identity in unique ways. Segregation in schools and churches would confound a population that in some senses does not regard itself as an African population as much as from an island near Africa that has its own unique traditions and culture. The expansion of Brown University and gentrification effectively dispersed a historic neighborhood by the end of the 1960's.
These were the challenges that Cabral and his contemporaries were encountering when they began an armed insurrection against the same types of systemic racism and exploitation perpetrated by the Portuguese. And this is where the PAIGC's links with the Communist bloc states proved to be so natural, it was because the ethos of internationalism, which defined Communist solidarity in the anti-colonial struggle, were part of Cape Verdean identity.
"Amilcar Cabral was from Angola, so there was this recognition, the same way that Che [Guevara] was from [Argentina], not Cuba, that there's an internationalism," said Araujo.
Guenny Pires, who is directing the documentary, says "I grew up with his story but I never really knew what happened and why. I was little when we got independence in 1975 so I could not understand a lot of stuff… I thought as a filmmaker it would be my responsibility to tell this story."
Pires says the film was created "to honor Cabral and to keep his message alive."
Click the Player Below to Listen to the Complete Interview!
Having been produced over the past 15 years, he is now seeking funding for the completion of the picture. And, because his production is partnered with a non-profit, all donations are tax-deductible.
For more information or to donate, visit the website of Txan Films or email them at TxanFilm@gmail.com.