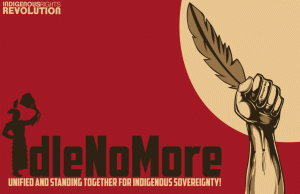 It's time for Rhode Island to be idle no more. Or, at the very least, Idle No More will be in Kennedy Plaza tomorrow at 4:15.
Idle No More is a movement in the form of a flash mob moving its way across the continent to call attention to indigenous peoples' rights. This from the group's Facebook page:
Idle No More Providence is calling on all Natives throughout the Rhode Island/New England area to take a visible stand in support of Indigenous Rights across the globe, and in particular against Canada's continued disrespect of and disregard for its Native Treaties as well as for the sacrifice of Attawapiskat First Nation Chief Theresa Spence. No speakers, just people from all directions uniting to take a stand for what is right.
The Nation has a good overview on the movement, and how it started:
Chief Theresa Spence is hungry. The Attawapiskat First Nation leader began a fast 27 days ago to draw public attention to Canada's Bill C-45. Critics charge that the omnibus legislation will challenge indigenous sovereignty and negatively alter the ways in which land and water are protected. Attawapiskat is in Ontario's northernmost region. Edging the Hudson Bay, it's plagued by deep unemployment and woefully inadequate housing. The only real employer is a DeBeers open pit diamond mine, about an hour's drive from where most people reside. Attawapiskat is just 600 straight miles from Canada's Parliament Hill in Ottawa, but because road conditions are so dire you won't find a map that will instruct you how to get there: it's so remote, one has to fly in or out of major cities in order to get there.

Spence is aligned with the broader Idle No More movement, which has sparked international solidarity for Canada's First Nations. Started by four Native and non-Native women, the movement began with a teach-in two months ago and has helped people realize the disproportionate ways in which environmental degradation affects Native people. Like Spence, Idle No More is drawing attention to Bill C-45—but in Canada alone, there are currently ten bills that specifically concern First Nations.
And here's what the flash mob looked like in Boston on last week: