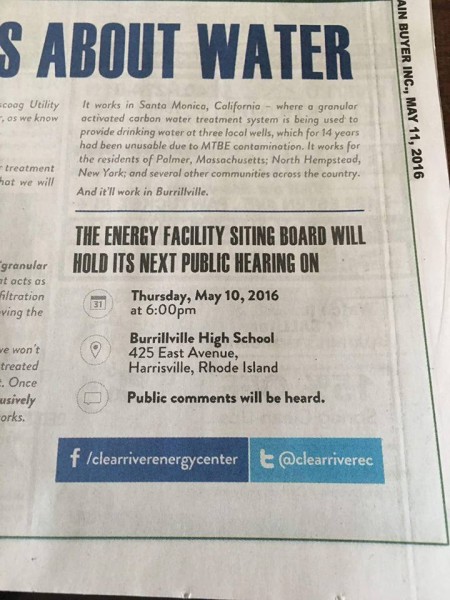 At Tuesday night's Energy Facilities Siting Board Meeting (EFSB), with Invenergy's Director of Development John Niland in attendance, angry residents accused the company of running a deliberately deceptive ad in the Bargain Buyer regarding the timing and location of the meeting.
"Today, in every mailbox in Burrillville, The Bargain Buyer, which is our Bible in Burrillville, was delivered," said Raymond Trinque, "Any clear thinking person would see this as a dirty trick by Invenergy."
The advertisement, (pictured) says the meeting will be held on Thursday night at the Burrillville High School. The meeting was held Tuesday night at the Burrillville Middle School. The date, May 10, is correct. Social media contained reports from people who say that some residents arrived at the High School for the meeting only to go home. Residents worry that others may arrive on Thursday evening for a meeting that's over.
The remedy for this "bold-faced lie", said Trinque to the EFSB Board, is to schedule another meeting at Invenergy's expense.
Stacy Slekis echoed Trinque's remarks, telling Niland, who remained silent on stage throughout the night, "Very well played on your mis-advertisement. We clearly are smart enough to know that this was not a mistake, but rather a carefully orchestrated tactic and an unethical business practice."
Niland and Invenergy did not reply to a request for a comment on this.
On Facebook, Kimberly Breault Sheeley, who works for the Bargain Buyer as a graphic designer, wrote, "…the bargain buyer did not typeset that ad… they did the ad themselves …so don't blame us…"
This isn't the first time Invenergy has allegedly messed up the process of notifying the public about meetings. Residents pointed to two other times when email invitations to meetings were either not sent to all residents or sent after the date of the meeting has come and gone.
[I will have more on the EFSB hearing later today.]
Invenergy accused of running misleading ad in Burrillville Bargain Buyer

,