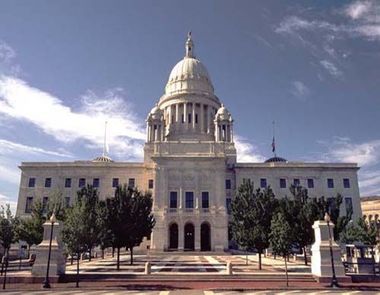 After a seven year dearth, it looks like a little bit of ethical oversight may be returning to the General Assembly. Thanks to a bill sponsored by House Speaker Nick Mattiello, Rhode Islanders could vote to restore the Ethics Commission's ability to review legislators' actions this November.
"The public and the business community need to have trust in their government," Speaker Mattiello said in a news release. "I believe giving the Ethics Commission jurisdiction over the General Assembly is a strong step forward for Rhode Island."
Mattiello's bill is a weaker version of the rules concerning Ethics Commission review of legislator conflicts of interest and other issues that the state Supreme Court effectively suspended seven years ago. It would suspend the oversight for five months before an election.
The state Supreme Court ruled seven years ago that legislators should not be held liable for actions that don't violate the law, including conflicts of interest. The court used the "speech-in-debate" clause that had traditionally been used to shield lawmakers from civil suit.
North Kingstown state Senator Jim Sheehan, a Bernie Sanders supporter, has been leading a one-man crusade for ethics reform over the General Assembly this year. He took the somewhat unprecedented action of buying advertising on local media (including this site) to call attention to the matter.
"While far from perfect, the House amendment represents a reasonable compromise on the ethics reform issue," Sheehan said. "Most critically, it finally closes the 'legislators loophole,' after a seven year hiatus, by restoring the jurisdiction of the Ethics Commission over the General Assembly. If approved and ratified by voters, I hope this measure will help rebuild the people's trust in their elected state representatives and senators. In light of recent revelations of scandal at the State House, albeit overdue, this reform could not have come any sooner. After six year of working diligently on ethics reform, I am gratified to see a successful outcome to this issue."
Senate President Teresa Paiva Weed, who joined Mattiello at a news conference yesterday, said, "I hope this is the final piece of the puzzle in terms of restoring confidence and trust in an institution which seeks to serve the people of the state of Rhode Island."
Other state leaders called it one step in restoring Rhode Islanders' faith in their government. "This legislation, along with my proposed lobby reform legislation, are historic steps toward restoring Rhode Islanders confidence in their government," said Secretary of State Nellie Gorbea.
Said Governor Gina Raimondo, "Rhode Islanders deserve better – we need to embrace broad and deep reforms. By restoring Ethics Commission oversight, adopting a line-item veto, and re-examining grant programs, we can send a strong signal that we are committed to making Rhode Island a good place to do business."
John Marion, executive director of Common Cause RI, who has long championed returning Ethics Commission oversight of the General Assembly said he supports the bill with some qualifications.
"Common Cause is supportive of the Speaker's proposal to restore the full jurisdiction of the Ethics Commission over members of the General Assembly," he said. "Our support is qualified on our need to examine the proposal further given that it was only made public today. Additionally, we believe that the moratorium on ethics complaints before an election belongs in law, not in the constitution. It has been seven years since a Rhode Island Supreme Court decision created this loophole in ethics oversight. It's high time the voters be given a chance to close it by amending our constitution this November."
Legislative leaders changed their minds on addressing legislators' immunity from oversight by the Ethics Commission after former House Finance Committee Chairman Ray Gallison resigned amid a law enforcement probe last week. It's unclear why the FBI and state police are investigating Gallison, but media reports since his resignation have shined a light on a non-profit that he works for. It received significant state funding and board members had little idea of the organization's work and even their roles, which surprised some listed as board members.
"It is unfortunate, but true, that scandals help advance necessary reforms," Marion told the Providence Journal.